A Judimar School class ca. 1953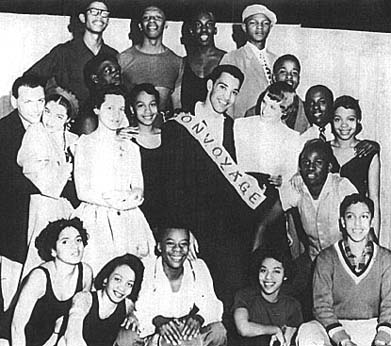 Leigh Parham with sash on eve of departure for Europe, to his right is Marion Cuyjet
Directly above Mr. Parham is Arthur Hall, to his right is McCoy Tyner
Lower center is Bobby Crowder with drum

As identified by Arthur Hall in 1996.
In 2011, we find a more complete identification as follows:

Bon Voyage party for Ernest Leigh Parham
L-R, Bottom Row: Yvonne Green, Franca Jimenez, Bobby Crowder, Delores Brown, Garvin Masseaux
Ronald Platts (behind Masseaux)
Middle Row: Terez Nelson and husband, Judy Cuyjet, John Jones (behind Judy Cuyjet), Marie Jimenez McLoed
Ernie Parham (with sash), Marion Cuyjet, Charles Moore (behind Cuyjet), Samuel Caruthers, Joan Jackson
Top Row: Charles Medley, George Williams, Arthur Hall, and McCoy Tyner

The photograph is Plate 19 in

Marion D. Cuyjet
And Her Judimar School of Dance
Training Ballerinas in Black Philadelphia
1948-1971

By Melanye White Dixon
(2011, Edwin Mellon Press)

The photographs on this page were added to the Arthur Hall Collection in 1996
and reproduced from the program for the November 14 celebration


Through the Courtesy of the Marion D. Cuyjet Private Collection.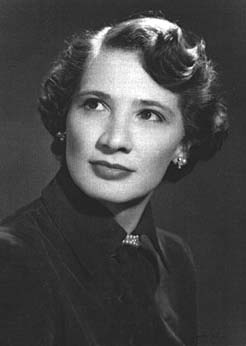 Obituary
from The Philadelphia Inquirer
October 26, 1996, by Andy Wallace [BWms, ed.]
Marion Durham Cuyjet, 76, of Center City Philadelphia, whose determination and teaching skills helped tear down color barriers and open classical ballet to black dancers, died Tuesday, October 22, 1996, of cardio-respiratory failure at the University of Pennsylvania Medical Center. She had been in intensive care for the last month.

She was called Miss Marion by the troupes of dancers who learned their plies and arabesques at Judimar, the dance studio she set up in Center City Philadelphia in 1946 and named for herself and her daughter Judith Colvin. She was teacher to some of the city's most successful black dancers ... including Arthur Hall ... Judith Jamison, artistic director of the Alvin Ailey American Dance Theater ... Joan Myers Brown, director of Philadanco, and scores of others. One of them, China White, was the first black dancer to receive a scholarship to the Pennsylvania Ballet Company School.

In the 1930s, when Mrs. Cuyjet started out in dance, being talented was not enough to get into the best ballet schools. It was also necessary to be white. It just so happened that Mrs. Cuyjet, whose bloodlines included Indian, African American and British genes, could pass for white and was allowed to enroll.

In the 1930s, Philadelphia was home to the Littlefield Ballet, the nation's first troupe made up of dancers born in America. Although Littlefield's ballet school did not accept blacks, Mrs. Cuyjet got in and sometimes appeared in company productions while in her mid-teens. Her lessons - and her stage appearances - ended suddenly when some black friends visited her backstage after a performance. "We will not look for you in your Thursday class," she recalled a ballet mistress saying when she realized that Mrs. Cuyjet was black.

She said she didn't dance professionally because "I wasn't that good," but she had a major impact on the dance, passing on the training she had received at Littlefield to black dancers. Mrs. Cuyjet held yearly recitals that included excerpts from the Russian classical repertory.

"It was so exciting," Mrs. Cuyjet recalled in a talk at Moorestown High School several years ago. "As soon as it was discovered that there were black kids dancing in the Russian style, I was in the limelight." After 1949, in addition to the recitals, she choreographed the full-length ballets performed annually at Christmas cotillions, at which black teenagers made their society debuts.

In an interview several years ago, Jamison said that Mrs. Cuyjet "created an entire world within her school." Beside dance classes - which included flamenco, Afro-Cuban and jazz in addition to ballet - there were little formal parties and lessons in art and culture. She was eager to send her more talented students on to master teachers ...

From 1958 through the 1960s, Mrs. Cuyjet was on the faculty of Maryland State College (now University of Maryland Eastern Shore) ... and she taught at Delaware State College and Cheyney State College. She closed her studio in 1971 and then worked for eleven years as a movement therapist in mental health at Philadelphia State Hospital at Bayberry.

She has received many honors. The performing studio at Philadanco has been named after her, and one of her students, Melanie Dixon White, based her doctoral dissertation on Mrs. Cuyjet. She and her dancers were featured in a traveling exhibit and forum on blacks in ballet sponsored by Lincoln Center in New York City, and she and four of her dancers were featured in the book Black Women of America.

Health problems made her personal life difficult. She suffered a mild stroke in 1991. She underwent a spinal fusion and two hip replacement surgeries. For about ten years before the death of her husband, Stephen, in 1980, she had to care for him while he was bound to a wheelchair by a degenerative nerve disease.

Marion Cuyjet is survived by her daughter Judith Colvin, sons Stephen, Jr. and Mark, five grandchildren, and two great-grandchildren. Memorial services were held at St. Luke's Episcopal Church, 5421 Germantown Avenue on November 2, 1996, and a dancer's celebration of Miss Marion's legacy in dance was held November 14 at the Arts Theater in the Drake Hotel, 15th and Spruce.