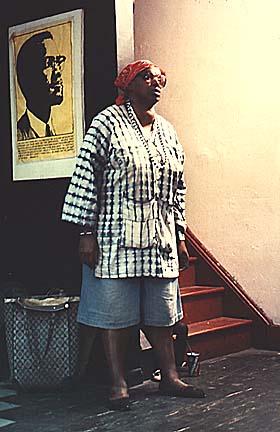 Elizabeth Roberts
Mama Liz






Elizabeth Roberts watches the dance
floor at Ile Ife in Philadelphia at the
stair to the second floor
Photograph ILE IFE 1996 - Photographer unknown,
can be dated with assurance to 1968 - 1988





Arthur Hall Collection
Elizabeth Roberts

February 1996 gift of Posters &ampc.
November 1996 gift of photographs and scrapbooks
Elizabeth Roberts has been the mother of the AADE for forever. She worked closely with Arthur Hall to design and produce costumes and is one of the principal reasons the company was able to drag so much material across the stage for so many years. She also performed as Yemanya, mothers and grandmothers with the company, and in Arthur Hall's Obatala she has a rightful place of honor.

Mama Liz passed away at the end of 1997. A memorial service was held in Philadelphia on her birthday early in 1998. Anyone with details as to these events, please advise.

Mama Liz was an astute collector and before she passed, she made two very important gifts to the Arthur Hall Collection. In February 1996 she provided the Collection with a large box of original posters &amp other materials as follows:
1962
ER "African Sketches," Sidney King Dance Theatre
Arthur Hall, director, April 15, 1962, Orchid Theatre, 60th & Market
ER "Iyone Nashe' Fountain of Youth Dance & Health Salon"
AH w/ George Williams, Libby Spencer, Joe Nash @ 5811 Germantown registration Aug 26, 1962 ~ classes begin Sept 4, 1962 [see text]
1966
ER The Jazz Original Club, August 21, 1966, An Exposure of Jazz & Afro-American Culture w/ Alfred Pollitt, AAE, AHDE, Contemporary Music
@ New Century Auditorium 124 S. 12th, Phila
1967
ER AADE, July 9 Fleisher Auditorium, Broad & Pine
[no year ~ 1967, per JN file: "African Sketches" ~ Nite Owl adv 7/1/67]
1968
ER The Saidates, Spring Ball, April 13 (no year) [1968]
Sheraton Hotel Ballroom
w/ Count Basie & "the Great Arthur Hall & his authentic Afro Dance Ensemble"
ER An African Safari, AHAADE, May 5, 1968
Town Hall, Broad & Race
JN, [program]
ER Arthur Hall Dancers, Anderson Recreation Center
17th & Fitzwater, August 1, 1968 (action summer '68, Dept of Recreation)
ER Pan African Students Union
African Dancing Show with Arthur Hall African Troupe
International House, 15th & Cherry, Aug 25 (no year)
[1968 per JN file]
ER Jacob's Pillow, AADE, Aug 29 - 31, 1968 (Lee, Mass.)
AH, Jacobs Pillow archive (2 seasons, 68, 69, ref: "Dance World" Dance Magazine)
Norton Owen [ref: Jerry Meyers]
ER AHAADE, Delaware Valley BUUC, Sept 28, 1968
Unitarian Society of Germantown, 6511 Lincoln Dr.
JN, [program - Black Unitarian-Universalist Caucus]
1969
ER AHAADE, Feb 21 (no year - from context c. 1969?)
Schaefer Auditorium [Kutztown State?]
("Black Experience Weekend" w/ Eldon Jolly, Intruders)
[add'l ref: Temple University Music Festival in Ambler PA coming up]
ER "Dance Concert Series" Sept. 26 (no year) [per JN ~1969]
Adams Memorial Theatre, Williamstown Mass.
1970
ER AHAADE, Feb 26, 1970, Univ of Scranton Student Center Aud
JN, AHAADE, Feb 26, 1970 [flyer]
ER "Spring Equinox" AHAADE w/Pa Kow Mensah, March 28, 1970
Blue Horizon Ballroom, Broad & Thompson
JN, 3/28/70 ditto
ER 2nd Anniversary of Ile Ife Black Humanitarian Ctr
AADE Show & Dance, Aug 8, 1970, Venango Ballroom, Germantown & Venango
JN invitation 8/8/70 AHAADE w/Yusufu King & Kingsmen of Ghana
ER (Harold Shaw) AHAADE, Oct 14 (no year)
@ Atwood Hall, Clark University, Wooster Mass.
JN "Fine Arts: Hall Dancers at Clark" Wooster Evening Gazette 10/15/70
1972
ER, JN AHAADE, April 29, 1972 @ Bucks County Community College, Newtown PA (BCCC Black Students Union)
1973
ER, JN ~ Orpheus, world premiere, May 13-14, 19-20
Shubert Theatre [poster has no year ~ 1973]
AH, "Hall Dancers Unveil Style In 'Orpheus'" Phila Inquirer, May 11, 1973 [p.B-1]
ER Orpheus, return engagement, June 19 - July 1
[no year ~ 1973] Schubert Theater, 250 S Broad
1974
ER "Collage in Black" world premiere April 27 - 28, 1974
Metropolitan Opera House (Greater Philadelphia Cultural Alliance, Festival '74)
ER "The Magic City" April 30, 1974 (Festival '74)
ER May 4, 1974, Phila Zoo, dedicating "African Plains" (Festival '74)
ER "Coming Up From the Roots" Mongo Santamaria & AHAADE, June 8, 1974
@ The Met, Broad & Poplar
ER St. Croix Concert Society "Arthur Hall Afro-American Ensemble" Nov 8 & 9, 1974 @ Island Center
BW, AADE Nov 4-10, 74 @ Virgin Islands Council on the Arts, St Thomas, St Croix, VI
1975
ER A City Called Heaven, world premiere May 29 - June 1 (no year: 1975?)
@ Walnut Street Theatre
AH, A City Called Heaven (1975, 90 min) Walnut St Theatre (8mm film stolen)
ER The (New) Observer, Aug 9, 1975
"Model Cities Program" Summer Cultural Arts
@ Ile Ife Museum; "adult program" @ 810 North Broad

Mama Liz and Bill Russell
with young Nsia, who played an Indian Princess
On tour with Fat Tuesday, 1977
Photo: Ruby & Milton Batiste

1978

ER Eulogy for John Coltrane, May 25, 1978, Dartmouth College
AH, Eulogy for John Coltrane (Dartmouth) ref: Errol Hill, Drama The Golden Stool (Dartmouth) ~ Voodoo Suite (1979-82?, Bill Cook, Ashley Bryant, ask Perk)

ER Odunde June 11, 1978

1980

ER Odunde June 15, 1980 ER BW, Yoruba Connection, Oct 12, 1980, Ile Ife Museum
BW, Yoruba Connection press release

1981

ER Odunde June 14, 1981

ER Black Sheep & African Dancers Spirit, Nov 22, 1981
Venango Ballroom, Venango & Germantown

1982

ER AHAADE, April 17, 1982, Dobson High School, Mesa AZ

ER Yoruba Egungun, June 6, 1982, 23rd & South

ER Odunde July 11, 1982

1983

ER Dance Black America, April 22 - 23, 1983, Brooklyn Academy of Music
AH, Dance Africa (1983) (BAM, CBS)

1984

ER Sweet Saturday Night, March 6 - 11, 1984 @ Brooklyn Academy of Music

ER "AHAAD Theatre" Africa Day, May 5, 1984
African Students Assoc of University of Delaware, Newark DE

1985

[ER ~ MOVE bombing headline, May 13, 1985]

ER Odunde June 9, 1985

1986

ER Odunde June 8, 1986

ER [Milton Batiste note to ER 12/17/86 on Olympia Brass Band poster]

1987

ER Odunde June 14, 1987

ER Oba Koso, October 18 - 24, 1987 @ Uptown Theatre, Broad & Dauphin
[from Rita] Community Messenger 10/1/87 "AADE Open Season with Oba Koso" p.5
"gala opening Sunday, 10/18 3:00 PM @ Uptown ... first performance in English trans ... scheduled to run a week w/matinee 10/21
AH, Oba Koso flier
AH, Oba Koso (1987) ask John Mason 90 min video

1988

ER Odunde June 12, 1988

1989

ER Odunde June 11, 1989

ER Poster of Jackson Square, New Orleans, inscribed:

To Mama Liz,
From your children in New Orleans,
Milton & Ruby Batiste
January 1989


[poster returned to Milton & Ruby 11 December 1998]
---
Elizabeth Roberts posters without years
ER "Inner City Dance Theater of Ile Ife BHC: Mood, Concept & Rhythm" Feb 24 - 25 (no year), Theater Advocate, 18th & Diamond
ER (Harold Shaw) AHAADE, March 8 (no year) @ Mary Dod Brown Chapel, Lincoln University
ER "African Tribal Images" University Museum Oct 11 - Dec 1 (no year)
[Katherine White Reswick Collection]
[AADE @ opening, per AH]
[perhaps Oct 11, 1969 @ Von Der Mehden Recital Hall?]
ER AHAADE "Must be Seen" November 17 (no year) Goodhart Hall
[Bryn Mawr College, perhaps 1968-72?]
ER "African Sketches" AH & AADE, Dec 7 (no year)
Columbia Branch YWCA, 1225 N. Broad
---
ER silkscreen print portrait of Nina Simon
[from Ile Ife Center art class, per AH]
ER multimedia Shango flag
ER newspaper clippings and artifacts on diverse themes apparently not related directly to AHAADE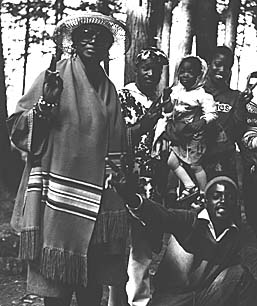 Elizabeth Roberts
with Ama and Jomo Amen Ra
and their daughter Yaa Konte.
Gamel Williams, kneeling.
Belgrade Lakes, Maine 1981
Photograph BBWms
November 1996 gift of photographs and scrapbooks

Arthur Hall Collection Directory
Arthur Hall subdirectory index
Return to Ile Ife