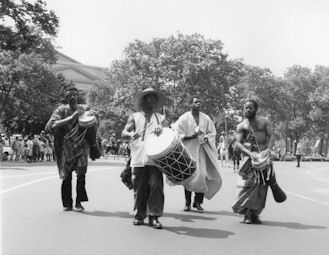 Ile Ife Films
The Arthur Hall Collection
2010 President's Report
(Updated: January 6, 2011)


To the family, friends and fans of Arthur Hall:

In 2009 the Arthur Hall Afro American Dance Ensemble Alumni expanded upon our
Renaissance on Sacred Ground DVD to provide deeper insights into the history of
the Ile Ife Center. Produced under the leadership of our board member Kwasi Agire
(Daryl Burgee), the Scribe Video Renaissance on Sacred Ground was shown at the
2nd Annual Cultural Arts Community Renaissance Affair at Philadelphia Community College,
a live performance in December 2009 that featured our artistic director Nana Korantema
and other Alumni recreating and documenting four of Arthur's dances:


Fanga

Hypnotic Healing

Revelation
and

Agbaja
(the EWE Dance).

Please see the program and credits.

In March, 2010, the Pennsylvania Historical and Museum Commission approved the Alumni
application for an historical marker honoring Arthur to be placed at the old Ile Ife
Center on Germantown Avenue in Philadelphia.
Please see the proposed text.

In the last two years here in Maine, I have digitized hundreds, if not thousands, of
slides, negatives, prints, and documents to create CD-R copies which are kept here and
in the Arthur Hall Alumni archives in Philadelphia. These materials are listed among the
recent additions to the Arthur Hall Collection.

In June 2010 the State of Maine granted us permanent exemption as an incorporated
nonprofit historical society for our work in preserving Arthur's legacy.

With the generous support of the Arthur Hall Alumni and of Lawrence Bender
(the producer of Pulp Fiction, Inglorious Bastards, and Al Gore's An Inconvenient Truth,
among many other fine works), we have been able to purchse the equipment
we need to begin the digitalization of the Arthur Hall Collection.

Please see the Digital Archive Project index for a log of materials digitized to date,
a description of the project equipment and digitalization process,
a summary financial statement, including a complete list of donors,
and a project budget for 2011-2012.

If you were to compare the 250 hours of Videotapes in the Arthur Hall Collection
with the Log of Materials in the Digital Archive,
you would see how far we have yet to go. The videotapes in the collection are in
several obsolete formats, mostly S-VHS camera originals, but also 1" broadcast masters,
3/4" Umatic, Hi-8, and 1/2" open reel helical scan, some of which are over thirty years
old. These tapes are fragile. The equipment needed to play them is obsolete and
increasingly rare. If nothing is done, they are apt to disappear.
It is urgent that these tapes be copied to digital before they are lost forever.
As of December 2010, I have transferred nearly 14 hours of S-VHS camera tapes from
Arthur's 1993 return to Philadelphia for the city's Arthur Hall Day celebrations,
including a children's class, a master class, Arthur's return to the old Ile Ife Center,
receptions at Philadelphia's City Hall and at the Pennsylvania Academy of Art, a modest
parade down Broad, and performances at MarcFest 93 at William Penn High School and at
Movement Theatre International, including the reunion performance of Arthur's magnificent
dance of Obatala.
At Northeast Historic Film we digitized two reels of Super-8 film (about one hour of
screen time) documenting Arthur's choreography of Orpheus, and I have digitized
the late Jorge Preloran's film of Arthur's The Unvictorious One (1956-1957) made
in Heidelburg, Germany, while both men were in the U.S. Army Special Services.
Since we began this Renaissance on Sacred Ground in August 2008, we have
received over $8,700 in cash donations and many thousands in donated services.
We now have a proposed budget of $70,000 to carry this work forward in 2011 and 2012.
We need your support to continue this important work in a timely and efficient way.
Please note that the work described here has been completed, and the Arthur Hall
Collection is now in the Special Collections Research Center of the Temple University
Libraries in Philadelphia, thanks to all who supported this project.

Thank you for your interest and support,

Bruce B. Williams, President
Ile Ife Films and the Arthur Hall Collection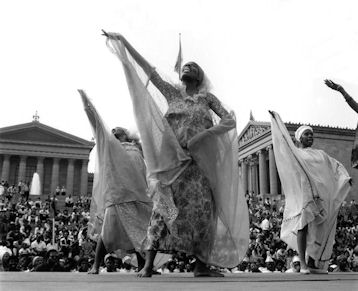 Photographs by B.B. Williams (1980)

2010 cash contributions received total $5,780
Total cash contributions received to date: $8,765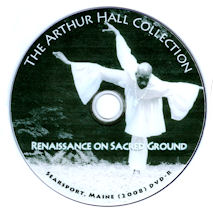 Available online
Renaissance on Sacred Ground
You need Quick Time Movie Player to see this movie
Contact Information

Recent additions to the Arthur Hall Collection

Index of subdirectories @ ileife.org