2012 Highlights in sequence

January 2012

The Arthur Hall Collection receives
four photographs from 1967 donated by Steve Linn,
who worked with Arthur on Beclch and designed the sets for
Repertoire Workshop: MOJUBA on WCAU-TV.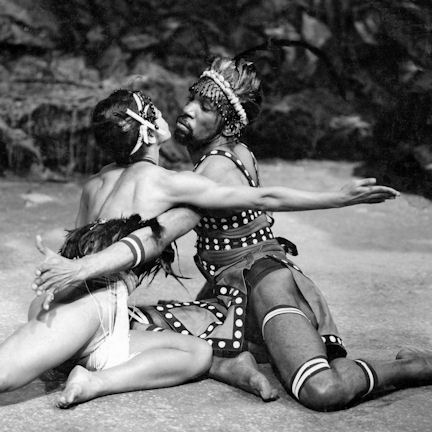 Arthur Hall and Ione Nash performing Adam and Eve / Temptation
at WCAU in Philadelphia, 1967 as described by
Ione Nash in her November 30, 2012 interview (see below).
February 2012
Discussions begin with Lincoln University President Robert Jennings
about providing a permanent home for the Arthur Hall Collection
The collection receives a copy of
Joan Myers Brown & the Audacious Hope of the Black Ballerina
A Biohistory of American Performance
A gift of the author, Brenda Dixon Gottschild
Inscribed to the Arthur Hall Collection
In memory and celebration of Arthur Hall
- a life lived in and for dance -
(2012, Palgrave Macmillan)
March 2012
Nana at Railroad Square Cinema
(Ile Ife Films / Arthur Hall Collection, 2012, 5:54)
A compilation of video and 16mm film Documenting the September 1995 event.
Posted to YouTube
April 2012
Fat Tuesday and all that jazz!
Digitally remastered version prepared for DVD edition
(Preservation Hall / Arthur Hall Collection, 2012, 1:22:58)
and
Fat Tuesday 35 years on!
A brief history of Fat Tuesday with individual credits for dancers and musicians.
(Preservation Hall / Arthur Hall Collection, 2012, 8:55)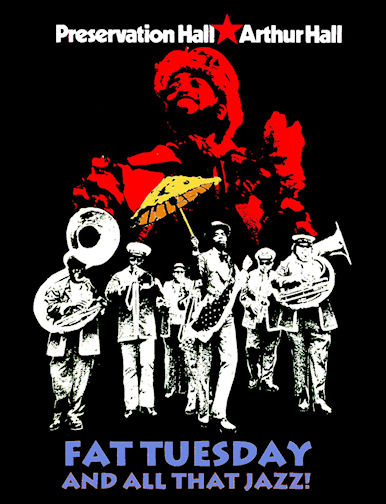 FAT TUESDAY and all that jazz!
Arthur Hall Collection DVD
Published in collaboration with
Preservation Hall
of New Orleans, Louisiana
DVD Edition credits
Available online from Preservation Hall
May 2012
Too Happy or something wrong with their knees
In which Ms. Nash closes out the program
(Ile Ife Films / Arthur Hall Collection, 2012, 10:55)
June 2012
The Elite and the Street
Black Class and Culture in Post-World War Two Philadelphia
(2012, Jessica Lautin and UMI Dissertation Services)
A gift of the author, Jessica Ellen Lautin, Ph.D.
A doctoral dissertation supported by materials in the Arthur Hall Collection,
with a discussion of the history of Ile Ife, including illustrations, most significantly:
CHAPTER FOUR: The "House of Love" and the Model Cities Cultural Arts Program
CHAPTER FIVE: A Black Museum for the Bicentennial, and
EPILOGUE: City Hall to Street Signs, which includes the June 2011
celebrations of Arthur Hall.
See 2011 Annual Report, including photographs by the author.
Available online through the ProQuest dissertation database accessible through
subscribing libraries and institutions. Paper copies are also available for about $40 -
through the ProQuest website or call 800-521-0600 ext 77044.
September - October 2012
Negotiations with Lincoln University continue.
Dean Cheryl Gooch appointed to "steer the ship."
Scheduled meeting and convocation at Lincoln University
postponed by Superstorm Sandy.
Based on Nana at Railroad Square Cinema
(AHC 2012, as described above)
several versions of
Functional Art Moveable Art
(AHC 2012, 3:00)
in which Arthur Hall is Nana,
a Bush Spirit who rids public spaces of evil.
World Premiere - November 29, 2012
Lincoln-Barnes Convocation
International Cultural Center
Lincoln University of Pennsylvania
November - December 2012
Lincoln University Convocation
November 29, 2012
featuring the Fall 2012 Lincoln-Barnes Lecture
Art as Community: The Arthur Hall Collection
by Bruce Williams and Nana Korantema Ayeboafo
Documented by Lincoln University's Lion Media (59:39)
a copy of which is in the Arthur Hall Collection.
Draft of prepared remarks by Bruce Williams
(Mostly abandoned in the event)
President Jennings and Dean Gooch
join the Board of Directors
of Ile Ife Films and the Arthur Hall Collection.
Kofi Asante and Bruce Williams tour the new Barnes Foundation
with its director Blake Bradford.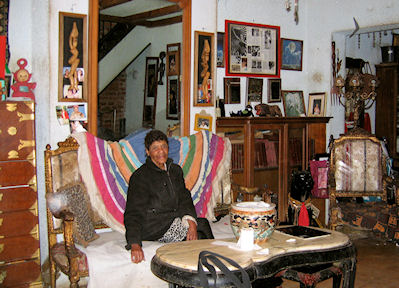 Ione Nash at home, Philadelphia PA, November 2012
(BBWms photo)
Ten interviews
added to the Arthur Hall Collection
(November 30 - December 2, 2012, Philadelphia, Pennsylvania) Ione Nash (AHC 2012, 27:16)
Shuna Ali Miah (AHC 2012, 27:31)
Monzella Allen (AHC 2012, 22:11)
Kofi Asante (AHC 2012, 22:29)
James Marshall (AHC 2012, 6:19)
Rita Cottman-Johnson (AHC 2012, 7:18)
Robert Kenyatta (AHC 2012, 22:37)
Carmen Butler (AHC 2012, 4:59)
Betty Alridge (AHC 2012, 23:13)
Lawrence Clark (AHC 2012, 14:03)
PLUS
additional materials, portions of which are now posted to YouTube
Rehearsal for Bobby Artis Tribute
(AHC 2012, 4:23)
which explores the marriage of dance and music
and
Lotus Academy After School Program
(AHC 2012, 6:58)
in which students of Monzella Allen perform Ibierio and Tche Tche Kule
Respectfully submitted,
Bruce B. Williams
Ile Ife Films
Arthur Hall Collection Index
Return to main page