Betty Alrige talks about Elizabeth Roberts

2018 Annual Report
Page 3

A summary of 2018 highlights (continued):



Margery Sly had some questions about whether the Elizabeth Roberts materials ‐ we had been
calling it the "Elizabeth Roberts Collection" ‐ was separate from the Arthur Hall Collection.
We assured her that it was not, and we later recorded the above statement from Betty
to the effect that Mama Liz acted as the Dance Ensemble's archivist.

The video is not intended to be a definitive appreciation of Elizabeth Roberts. Of course,
Mama Liz was among the original AADE dancers from the 1960s onward, and she was loyal
to Arthur Hall throughout her life. She created most of the company's costumes and also
provided Arthur with his distinctive street clothes. Arthur often said it was
Elizabeth Roberts who made it possible for the company to "drag so much material
across the stage for so many years."


Frances Scarborough arranged a meeting with Ken "Skip" Burton, who donated eleven
High‐8 videotapes which he recorded in Ghana in 1993, one of which contains an
interview with Saka Acquaye. Joe Gardiner at NHF has made digital masters from these
recordings and made DVD copies which have been sent to Mr. Burton.

Skip Burton also provided significant photographs of Arthur and Ione performing
Adam and Eve (Temptation), reproduced below.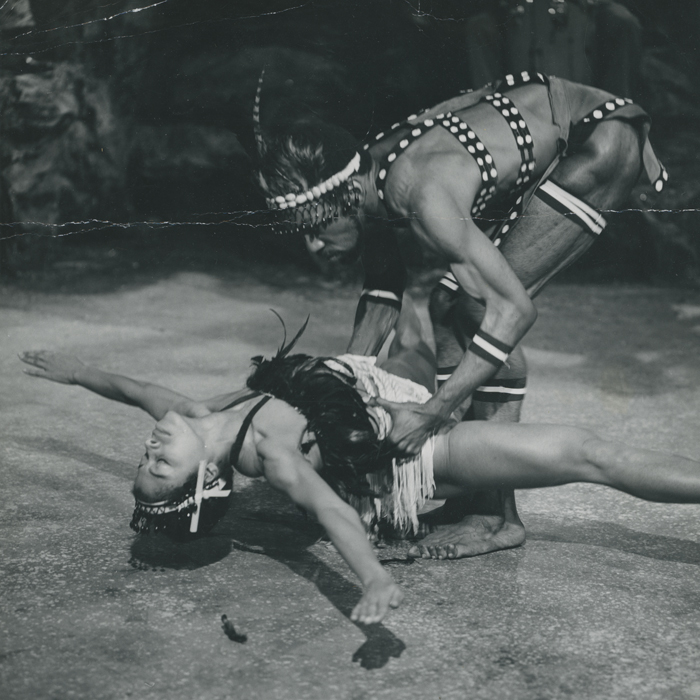 Arthur Hall and Ione Nash perform Temptation, c. 1967.

This photograph appears to be from the same production as the two photographs given the
collection by Steve Linn in January 2012, (see MOJUBA!) and indeed the "African Sketches"
program provided by Skip Burton (see below) credits Steve Linn for set design and lighting.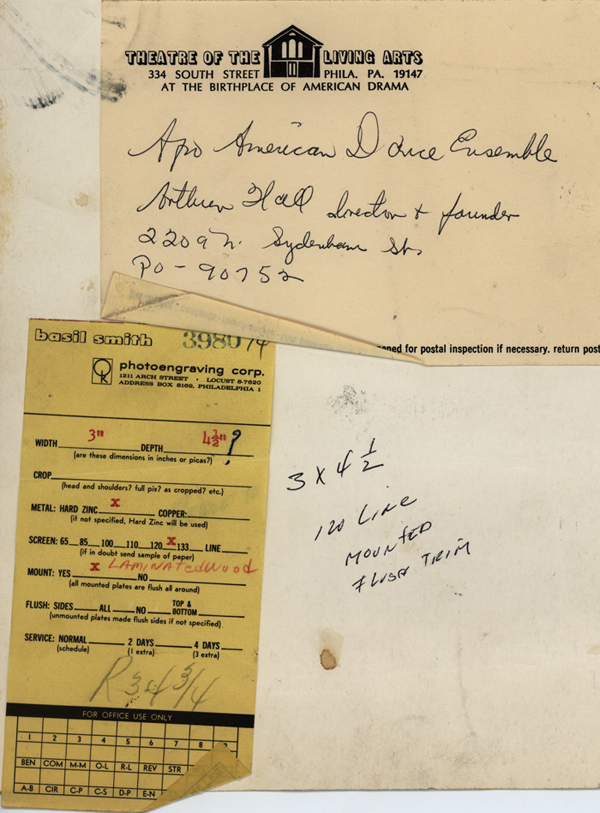 Back of Temptation photo, c. 1967, provided by Skip Burton.

This is the back of the photo given by Skip Burton. Note the "Theatre of the Living Arts"
label and the Sydenham Street return address in Arthur's hand. The Theatre of the
Living Arts of the time was producing Beclch, directed by Andre Gregory.
The production produced very good reviews for the Dance Ensemble.
The Sydenham Street address was the home of Arthur's mother, Miss Sally, and an
early home of the Afro‐American Dance Ensemble.

In 2016, Andre Gregory asked about footage of the dances in Beclch, dances which are
probably closely associated with "African Sketches" and MOJUBA!

Arthur Hall credits Andre Gregory with encouraging him to take risks as a director.



An early dance ensemble, ca. 1967.

Also from Skip Burton, a photo with many unidentified dancers. Arthur Hall and Ione Nash
pose in the foreground. Perhaps that is George Williams standing at left. Perhaps
these are dancers drawn from the Sydney King classes. If anyone can provide any
information, please contact me.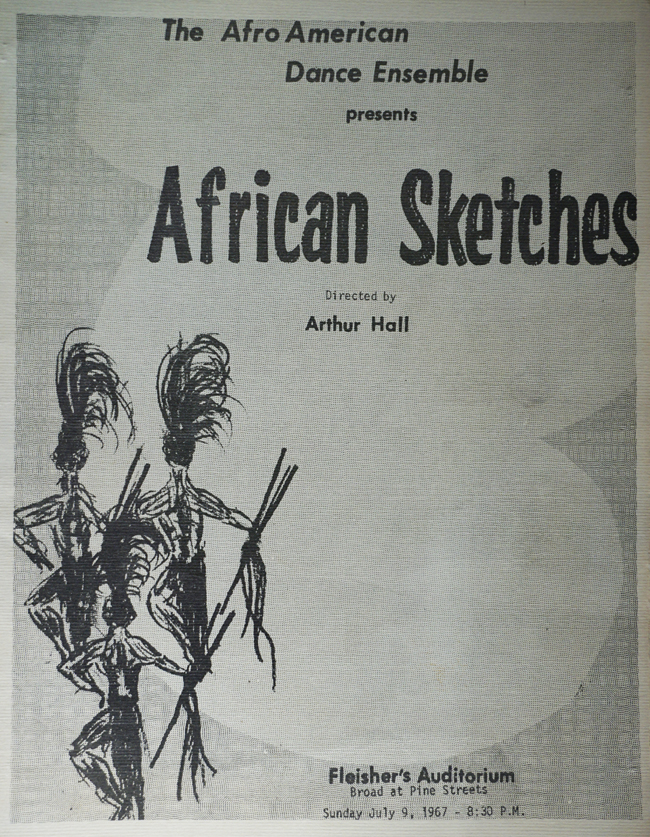 An original 1967 African Sketches program.

Also from Skip Burton, an original African Sketches program, with a foreword by Arthur Hall
that ends, " ... a man without knowledge of his heritage is like a tree without roots ..."
and a dance program:

Valley of the Sacred Grove
The company

King of the White Cloth
Arthur Hall

Lost Journey
Vangie Brown, Karen Steptoe, Carol Butcher, Frank Hill

Fetish Worshipers
Ione Nash, Frank Simmons, Arthur Hall

Goddess of the Harvest
Karen Steptoe)\

Temptress
Vangie Brown, Frank Hill, Willie McCray, Frank Simmons

Mystery of Love
Carol Butcher, Arthur Hall

Drum Interlude

Odunde Ritual
Elizabeth Roberts and the ensemble

Drum Interlude

Kalokadee
Carol Butcher, Karen Steptoe, Vangie Brown, Frank Hill, Willie McCray, Frank Simmons

Temptation
Arthur Hall, Ione Nash

Brazil
Carol Butcher, Vangie Brown, Karen Steptoe, Frank Simmons, Willie McCray, Frank Hill

Drum Interlude

Carnival, parts 1 and 2
The company

Finale
The company

The Drummers:
Bobby Artis, Jerry Golden, Farel Johnson, Robert Crippens, Hilton James, Joseph Williams

Cowbell and Shaker:
Sandra Charlton

Musicians:
Flute, Chakanga Chunda
Vibes, Gilbert Martin

Guest Drummers:
Chief Bay, Sonny Morgan, Richard Landrum

Choreography: Arthur Hall

Costumes: Elizabeth Roberts and Arthur Hall

Sets and Lights: Steve Linn

Props: Frank Hill

Photos: Steven Tilles

Treasurer: Sandra Charlton

Secretary and Wardrobe: Edward White

The inside back cover has a message from Arthur Hall that advocates for "A Center for Learning" ‐
what would be realized a year later as The Ile Ife Black Humanitarian Center.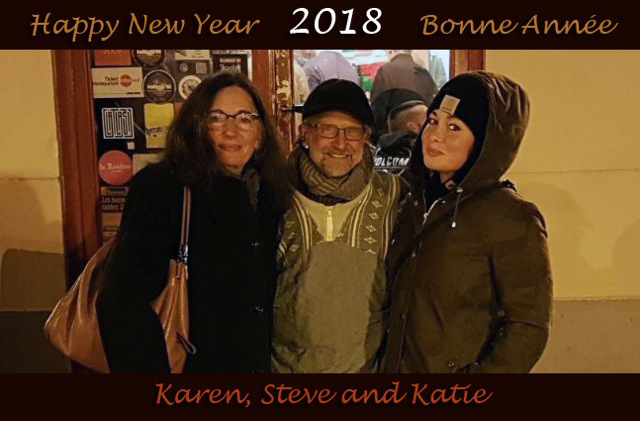 New Year's greeting from Linn‐Lehrer
Working with Arthur Hall had a way of changing one's life. Call it inspiration, perhaps.
2018 started with the above good wishes from Steve Linn, sets and lighting for African Sketches.
For contemporary work by Steve Linn see Steve Linn Sculpture.

Read More
Page 4