2022 Annual Report
ILE IFE Films, Inc.

Ile Ife Arts
The Arthur Hall Collection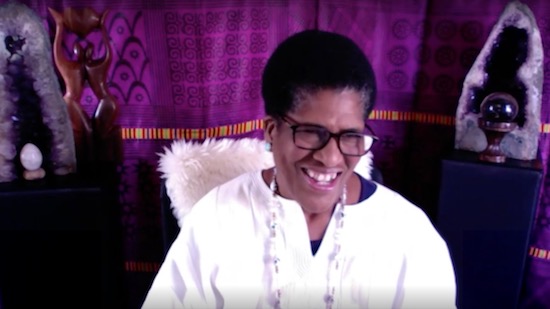 Nana Korantemaa Ayeboafo

President's Report

The chaos created by the Covid pandemic resulted in little progress in processing the
Arthur Hall Collection by the Special Collections Research Center in the Temple University
Libraries all through 2021 and 2022. Late in 2022, an archivist was assigned to develop a
plan for processing the extensive holdings in the collection - films, videotapes, audio
recordings, photographs, books, posters, programs, and other ephemera. Through the
upheaval, the SCRC announced the acquisition of the collection with a Made in North
Philly / Beyond the Page conversation with Nana Korantemaa and Germaine Ingram,
moderated by dance historian Brenda Dixon-Gottschild.

Looking Back on Arthur Hall
and the
Afro-American Dance Ensemble
(Running time 1:23:32)

The video begins with an introduction by Margery Sly, the director of the SCRC, followed
at about 4:50 by the 1984 promotional video for the Afro-American Dance Ensemble.
The digital glitches in the embedded video can be avoided by watching here:



Note: At least two VHS copies of the Afro-American Dance Ensemble 1984 Promo are
now in the SCRC. These are Arthur Hall's personal copies, from which we made two Digital
Preservation Masters, one in the SCRC and one in Northeast Historic Film in Maine. The
promo was made with a grant from the William Penn Foundation to the Philadelphia Dance
Alliance and recorded at the Painted Bride by Video D Studios of (then) NYC. When last
contacted, Video D Studios said that if they still had the camera tapes from which the
promo was created, they may be stored in their basement in lower Manhattan.
Alternately, they may have been returned to the Philadelphia Dance Alliance.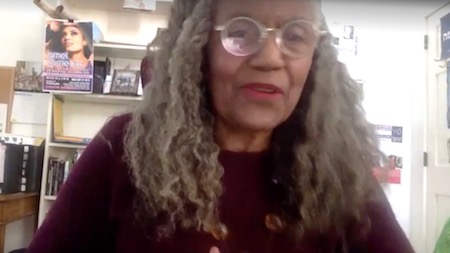 Brenda Dixon-Gottschild

At about 12:30 Brenda Dixon-Gottschild gives her introduction.

At about 13:40 Nana Korantemaa adresses Arthur Hall's legacy.

At 19:35 Brenda introduces Germaine Ingram.

20:55 Germaine discusses Arthur Hall and his relation to her work with the Yoruba Project.

34:10 Brenda asks Nana to explain where Obatala stands in the Yoruba pantheon.

34:30 Nana gives a brief exegesis and discusses Arthur's spirituality.

39:50 Germaine introduces a clip from the end of Ray Hartung's Film ILE IFE House of Love.

40:25 There follows a technically very poor clip from the end of the dance of Obatala.
A more robust clip is here:



This video is the tail end of Ray Hartung's ILE IFE House of Love, the third
most watched Ile Ife film in 2022, following Arthur Hall Obatala and
Arthur Hall in Mister Rogers' Neighborhood.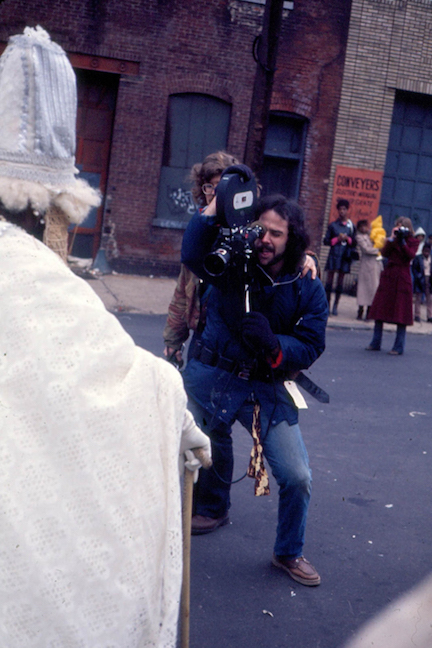 Ray Hartung filming ILE IFE House of Love
(16mm, ca.1973)
A rare 16mm print is in the
Arthur Hall Collection
Special Collections Research Center
Temple University Libraries
with its digital Preservation Master.
A separate Digital Preservation Master
is stored remotely at Northeast Historic Film
in Bucksport, Maine

42:40 Brenda reacts and reads from her book on Joan Myers Brown regarding
Arthur's early history with Judimar, Marion Cuyjet, and Sydney King.

45:08 Germaine calls names of Arthur's teachers.

45:50 Nana on Arthur in North Philly / lost and now I'm found /the meaning of Sankofa /
Model Cities free classes for children / School of the Performing Arts on
South Broad Street

52:30 Brenda calls my name / Nana says Arthur could call people from different walks of
life / on the formation of Ile Ife Films

54:20 Germaine adds Arthur was a trained photographer / says Arthur and I are kindred
spirits (I like that very much) / asks Nana about Saka Acquaye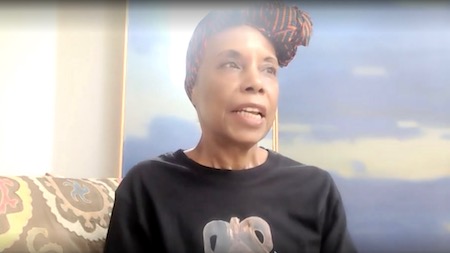 Germaine Ingram

55:50 Nana discusses Saka Acquaye / rehearsing at Broad and Diamond (ballroom over a
pharmacy) / Saka looking for drummers / Arthur as walking encyclopedia
1980 tour of Saka Acquaye and Wulomei

Note: I shot 16mm footage of Wulomei during their 1980 tour, which includes a Zimbabwe
Independence Day demonstration at Temple University and clips from Sasabonsam performed
in Philadelphia and in Harrisburg. The camera original 16mm is now in the AHC at SCRC,
backed up by duplicate Digital Preservation Masters, one in the AHC at SCRC and
one at Northeast Historic Film (NHF) in Maine.

59:10 Brenda has questions coming in ...

59:30 Germaine raises topic of Model Cities / Odean Pope

1:00:25 Nana provides details about Model Cities / Ile Ife as Cultural Arts Delegate
Agency / Odean Pope / Barbara Bullock / Mongo Santamaria / Charles Searles / John Jones /
Black ballerina Gloria Hurston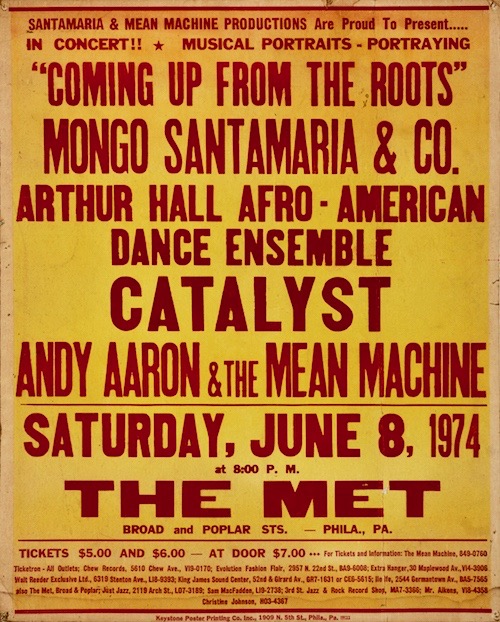 Poster collected by Elizabeth Roberts
Arthur Hall Collection
Special Collections Research Center
Temple University Libraries

1:04:04 Brenda goes to Questions from viewers / Is there work of Arthur available for
reconstruction or restaging? (YES)

1:05:20 Nana says the collection has films of Arthur teaching films and of performances /
give credit where due

1:06:15 Germaine / 1:06:46 Nana speaks to accessibility of the arts / Brenda more messages

1:11:50 Brenda discusses her interview with Arthur added to the collection via Daryl Burgee.

Note: Brenda gave Daryl Burgee the tapes from which he made a CD to send to me.
Tape #1 is missing. Daryl made a single CD from tapes #2 and #3. Hear the recording here.
I believe that CD is now in the AHC at SCRC along with Brenda's original transcriptions, amended.
This recording is NOT backed up by a Digital Preservation Master.

1:14:00 Nana talks of Arthur's generosity as a humanitarian.

1:18:50 Germaine talks of the importance of art / calls for someone dedicated to the
Arthur Hall Collection and the inspiration found in Arthur's legacy.

1:20:10 Brenda / Nana / Brenda gives thanks.
1:21:35 Nana gives a benediction.
1:23:32 End of video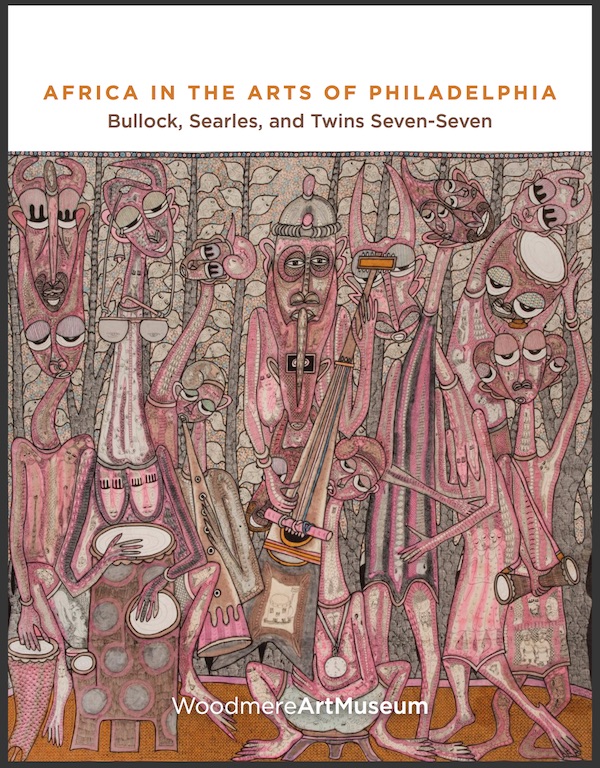 The Spirits of My Reincarnated Brothers and Sisters, 2006-7, by Twins Seven-Seven.
From the collection of the Woodmere Art Museum, Philadelphia.

As previously reported, among the first fruits of the AHC being moved to the Special
Collections Research Center is its use in the online catalog for the Woodmere Art Museum's
exhibit Africa in the Arts of Philadelphia: Bullock, Searles, and Twins Seven-Seven.
Each of the three artists have connections to Arthur Hall and to the Ile Ife Black Humanitarian
Center, and the catalog uses a number of images from the AHC, newly arrived at the SCRC.

The show's curator Susanna Gold also arranged for me to edit together a short video of
Twins Seven-Seven to be shown during the exhibition. The video is composed from
16mm films and videotape recordings now at the SCRC. Unfortunately, the exhibition,
like the processing of the AHC, was disrupted by the pandemic that hit in March 2020.

Although the catalog is available for free online, I asked permission from the Woodmere
Art Museum for Ile Ife Films (Ile Ife Arts) to produce a limited edition of printed copies
so interested people would have something to hold in their hands, rather than just to see
in minature on their phones. I also hope that the hard copies might help establish an
annual Arthur Hall African Arts Award in Philadelphia.



Dancers (1975)
By Charles Searles
(Private Collection)

Printing the catalog was our greatest expense in 2022. We paid the printer a little over
$1,900 to produce 77 copies (see our 2022 financial statement below). We ordered 75, but
the printer bumped it up to 77, perhaps in honor of Twins. That's about $25 per copy. The
value of each would normally increase due to its rarity, but not so much in this case,
given that it's free online in keeping with the zeitgeist. We provided copies to most of
those involved who are still living (Charles Searles and Twins have passed on) and to
corresponding alumni. We also added two copies to the AHC in the SCRC and two to the
Charles L. Blockson Afro-American Collection at Temple University.

Africa in the Arts of Philadelphia in the Temple Libraries catalog

Dancers by Charles Searles (above) may well have been inspired by "The Shelele Sisters"
- Karen (Steptoe) Warrington, Carol Butcher Schley, Evangeline Brown, Penny Vaden -
performing the dance Celebration. Africa in the Arts of Philadelphia includes
A Conversation with Karen Warrington, beginning on page 50, in which she describes the
heyday of the Ile Ife Center and its impact on the children of the community and on the
broader arts and culture of Philadelphia. She also recorded an oral history with Dr. Diane
Turner, Curator of the Charles L. Blockson Afro-American Collection, available online:

Ile Ife in North Philadelphia Remembered
(Running time 1:15:55)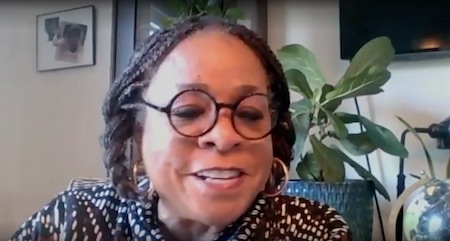 Karen Warrington

This is a very valuable oral history. Beginning at 1:06 Karen Warrington recalls that as a
schoolgirl she saw Saka Acquaye's West African Cultural Society in rehearsal in the studio
over the drug store at Broad and Diamond. She calls names: Arthur Hall, George Williams,
Louella Wimberly, Ione Nash, Vivian Certaine, Frank Simmons, Bobby Crowder / Arthur in the
army in Germany / Sydney King dancers / early days of the Afro-American Dance Ensemble /
the creation of the Ile Ife Center / early days of the AADE

Photo at 6:32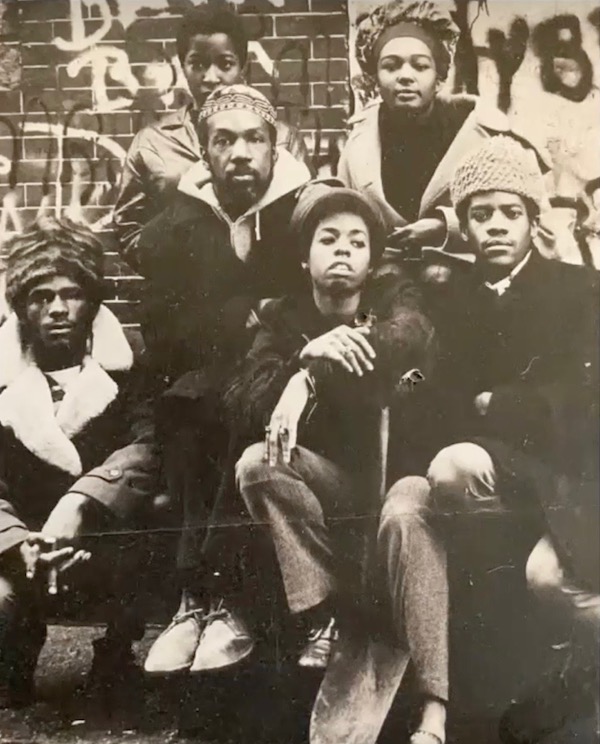 (l. to r.) Farel Johnson, Carol Butcher Schley, Arthur Hall, Karen Warrington, Vangie Brown, James Crawford
Photo from Karen Warrington Collection

12:35 How was Arthur Hall connected to Yoruba traditions?
Ulli Beier / Twins Seven-Seven / Susan Wanger / Barbara Bullock / Cuban Bembe

15:35 Was Arthur Hall Yoruba-centric?
Multi-cultural / 1974 trip to Africa / Ghana and Nigeria / Arthur a priest of Akan /
Pan African Studies at Temple

21:22 More on the Afro-American Dance Ensemble / cultural pride

Photo at 21:48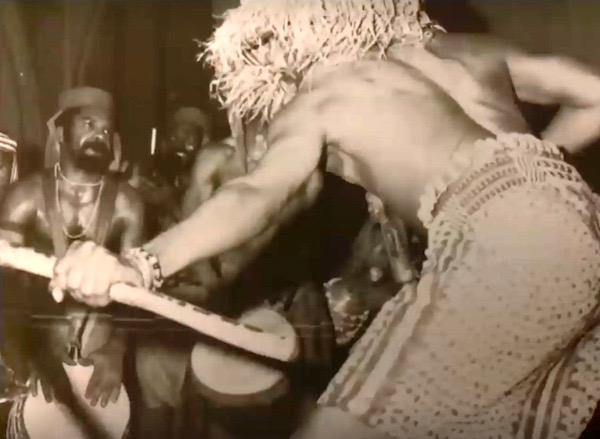 James Corry at left / Joseph Williams in background / probably Arthur Hall's back in foreground
Photo from Karen Warrington Collection

27:44 Model Cities 1970-1974 / calling names: Odean Pope / Tyrone Brown / Eddie Green /
Philly Joe Jones / Barbara Bullock / Charles Searles / Winifred Owens / Clarence Morgan /
Reggie Brown / German Wilson

31:55 Elizabeth Roberts - Mama Liz
Note: In addition to performing and making costumes, Elizabeth Roberts collected posters
and programs for Arthur at every opportunity, and she took some 4,000 35mm color slides of
costumes, dancers, cats, babies, and occasional glimpses of the Philadelphia demimonde.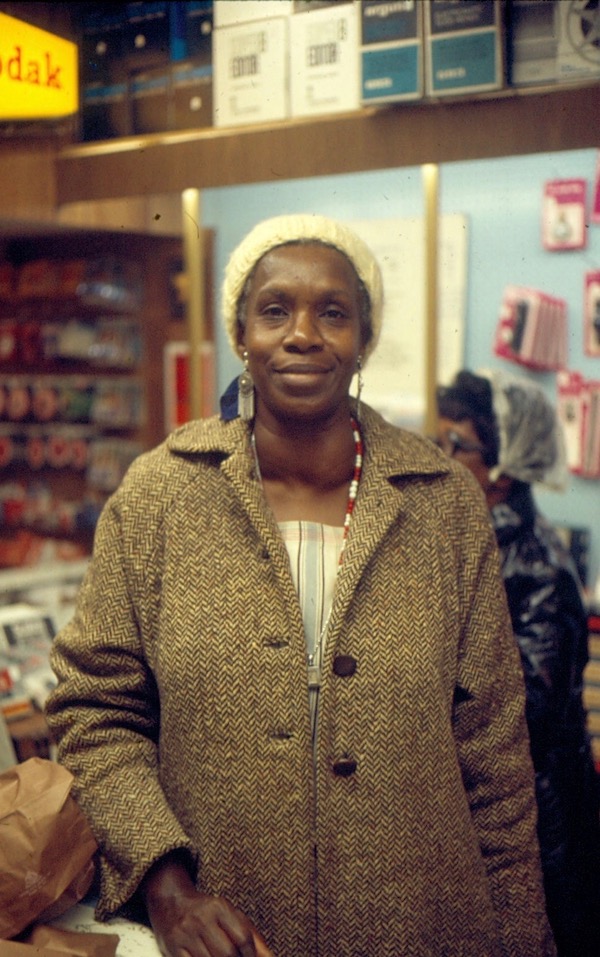 Elizabeth Roberts
Arthur Hall Collection photo

At Arthur's request, Mama Eliz sent her paper archive to Ile Ife Films, and separately,
Arthur and I drove to Philadelphia to pick up her color slides. All her materials are now
in the AHC at SCRC. Arthur had me drive him to Philadelphia from Maine for only two
memorial services - Marion Cujet's and Elizabeth Roberts'.

33:00 Karen describes suffering through two hours of the wretched movie "King Solomon's
Mines" in order to see three minutes of sublime Watusi dancing.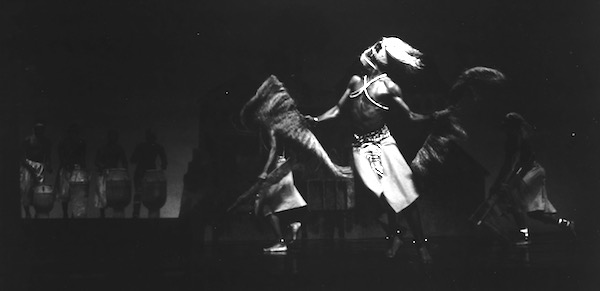 Afro-American Dance Ensemble performance of Watusi
Arthur Hall Collection photo

Note: Even then, there were cutaways to the whites peeking through the blinds and
muttering, "The natives are restless." Hollywood films are weird that way. There is
sublime film of Louis Armstrong and Billie Holliday singing when all of a sudden we cut to
some blonde heifer just arriving and looking very tolerant and appreciative of pure genius.

34:45 Lack of recognition for artists

36:05 MOJUBA! One hour special on Channel 10
Note:(then CBS, now NBC) Also broadcast in NYC - Repertoire Workshop

Multiple half hour segments on WHYY.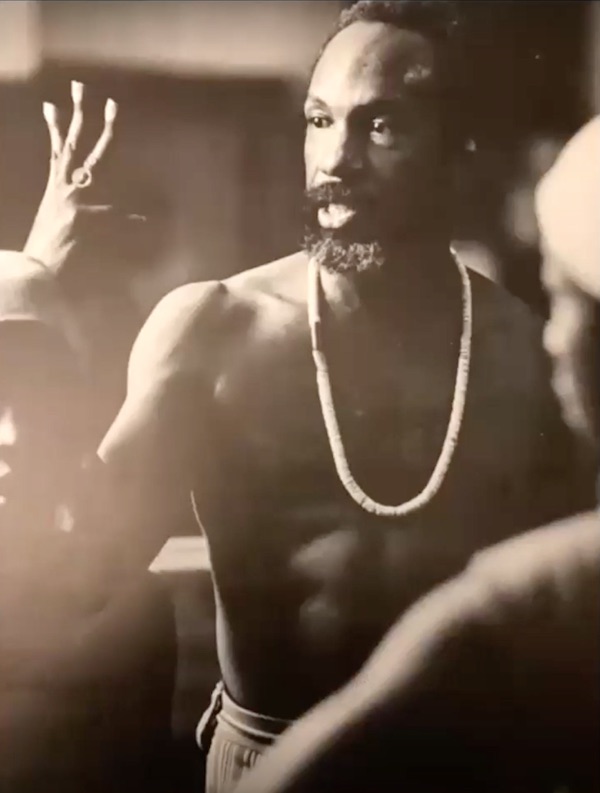 Arthur Hall teaching at Ile Ife, pictured in the mirror with Betty Alridge on his left and right
Photo from the Karen Warrington Collection
Some of these photos were often reproduced
and are also in the AHC at the SCRC.

36:45 Karen Warrington is misinformed about Arthur Hall's leaving Philladelphia.

Around Christmas 1988, Arthur took a bus to Memphis, Tennessee, to be with his mother
Ms. Sally. He called me after a few days back in Memphis. I was living in Vermont at the
time, suffering through a nasty divorce. I was distressed by the news and asked about the
films on the third floor at Ile Ife - prints of Ray Hartung's film and of my two films.
He said he had left with only the clothes on his back. "That's unacceptable," I said, adding
insult to his trauma. The films never were recovered. Karen Warrington says Arthur left the
company holding "the short end of the stick." Of the original company members pictured
above, only Vangie remained at the time of Arthur's leaving Philadelphia for Memphis.
Perhaps by the end of 1988 Arthur was looking for family elsewhere.
He did not move to Maine until after Ms. Sally passed in 1994.

37:50 Ile Ife Museum / Visionary Arthur / Ile Ife as "Africa Central / PNB gift of Museum
Building to Ile Ife Black Humanitarian Center / Bicentennial / city wanted Ile Ife to move
to Center City / Model Cities program proven, but City reneged / Recreation Department /
School Department / the arts and discipline



Karen Warrington, Vangie Brown, Carol Butcher Schley, Penny Vaden
Photo from the Karen Warrington Collection

45:25 What happened to Ile Ife?
Delegate Agency for Model Cities Cultural Arts Program / Bugaboos / debt

49:10 Again, Karen Warrington erroneously claims Arthur left Philly for Maine.

50:06 What did Arthur take with him? Karen says, "I don't know."
He took the clothes on his back.

50:55 Overall impact of the Afro-American Dance Ensemble? "Cultural Mecca" / Public
Education cutting out the arts / schools still teaching square dancing to Black kids

1:01:09 Where are the Arthur Hall archives now?
The Arthur Hall Collection is in the Special Collections Research Center in the Temple
University Libraries in Philadelphia, Pennsylvania. Again, Karen Warrington erroneously
claims that Arthur "turned over all his archives to a man in New England," (referring to me)
that I was essentially a "business partner," and that Arthur's "Intellectual Property is owned
by another entity." Hogwash. When Arthur moved to Maine in 1994, he asked me to help him
form a nonprofit company - Ile Ife Films and the Arthur Hall Collection - to serve
as an umbrella for staging concerts - we produced nine - four Ile Ife Philadelphia Maine,
one The Rhythm of Life, two African Harvest for the World, and two Accent Ghana -
and for the production of a film on the Thirty Year History of the Afro-American
Dance Ensemble, 1958-1988 (for which we had funding, had WHYY agreed
to facilitate the production - they did not) and for the creation of the
Arthur Hall International Dance Center and
Archive of African Dance.

1:03:00 More comments online / Saka Acquaye and Carol Johnson / John Eshun / Obediah Craig

1:15:55 End of program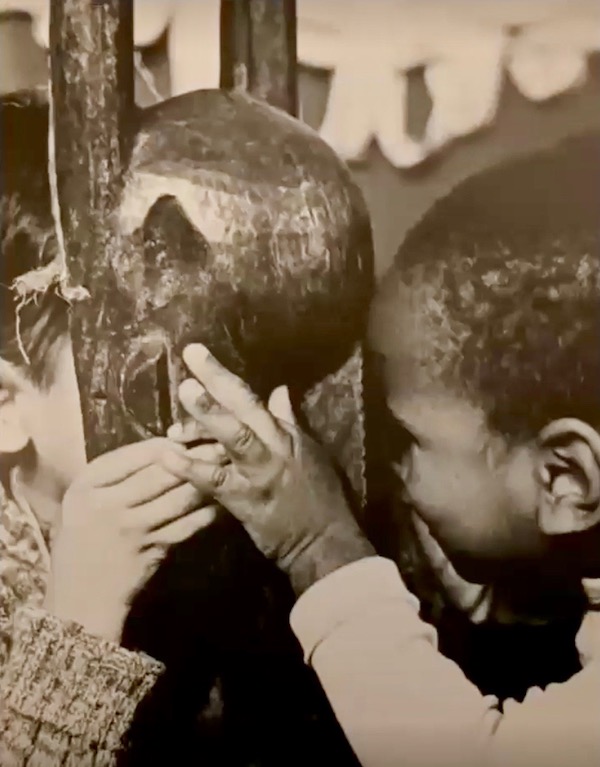 Children playing with an African Mask
Photo from the Karen Warrington Collection

With the two exceptions of her flawed recounting of Arthur's leaving Philadelphia and of
her misunderstanding of Arthur's founding of the Arthur Hall Collection in Maine,
Karen Warrington's Oral History recorded for the Blockson Collection is authoritative.
Her insider knowledge of the early years of the Afro-American Dance Ensemble is priceless.
Her account of her own discovery of her African cultural heritage echoes Arthur's own,
and her knowledge of the politics of the arts and education, informed by her work for
Congressman Robert A. Bradley and by her work as director of communications at Lincoln
University, leaves her rightfully indignant at the chronic undervaluing of the arts.
As a cum laude graduate of Temple University in radio/television and film,
one would hope she would embrace the Arthur Hall Collection at Temple
and encourage her students to use this resource within the Creative Commons
(attribution, non-commercial).

Karen Warrington was also the Moon in Orpheus. She says that it's one thing
to imagine a full-length dance opera with orchestra and another
to pull it off.

Documenting Orpheus in the Arthur Hall Collection, we have two reels of Super 8mm film and a
1/4" tape audio recording from a live performance. I drew from these to make an edited
video Orpheus Overture. It was posted on YouTube long before we had an account on Vimeo.
It is now available on both.



Note: Orpheus Overture is a very early work of digital editing. The picture is drawn
from two 8mm camera rolls in the Arthur Hall Collection:

AHC.001.028 and AHC.001.029

These are silent films of a performance shot from the balcony to the left of the stage.
The original 8mm films are now in the AHC at the SCRC in the Temple Libraries. The digital
copies were made very early in the digital preservation process on a converted movie
projector and are NOT preserved on the LTO Preservation Masters as uncompressed files.
No doubt much higher quality digital copies could be made using today's technology.

The audio recording of ORPHEUS in performance (1973) can be heard here.

Here are four songs recorded in 1973
by the Afro-American Dance Ensemble
during the production of
ILE IFE:
Ebierio
Iya Ni Hura
Ode to Yemanja
Obatala

Here are five tapes of Arthur Hall Interviewed by Ayo Ngozi in 1996

The end of Tape 5 is used in Two Songs from Saka Acquye with random visuals superimposed.
I put random images gleaned from the internet over Arthur Hall - Ayo Ngozi Tape #1 and
expect to do the same with the other tapes, using images from the collection, but it's
slow going, and I thought to put up the audio clean here in the Annual Report.

Also in 2022, Ile Ife Films proposed the creation of an annual award in Arthur's name
to support projects promoting the appreciation of African arts and culture, particularly
those that might utilize the Arthur Hall Collection at the SCRC. While we await the
processing of the collection in the Temple Libraries, Ile Ife Films stands ready to
provide what resources we can, though we have no staff, and I grow increasingly
old and infirm. Our digital files mirror those at Temple, more or less.

Last autumn, Andra Vernon Forrest and Lawrence Clark drove up from Philadelphia for a
brief visit. I've known the brothers since they were boys hanging out with JoJo on Alder Street.
They set up a lovely videophone conference with Stephanie Amma Oyedi. We spoke of many things:
the importance of having children's classes; how children dancing quarantees an audience,
(Arthur often said that each child on stage brought in five people to the audience, on average);
how Arthur learned to stage full concerts by helping organize the annual cotillions at
Sydney King's; how to conserve Arthur's Massai gourd using vinegar on the inside and
Snow-Proof on the leather; and many another reminiscence. Later, Lawrence sent a phone
recording of their perforance of Otofo, which they restaged from their days in Omo Ife.
I don't know what to do with phone videos. Getting to be an old curmudgeon.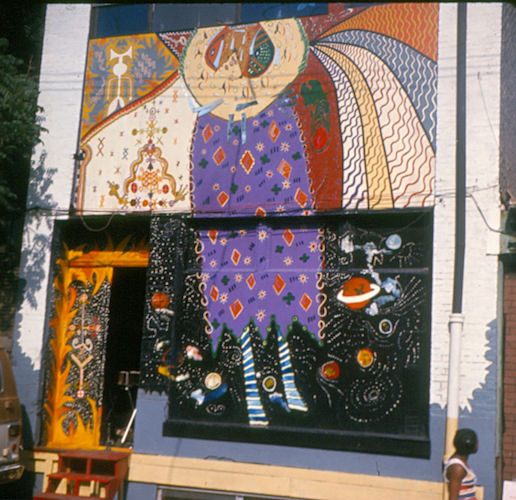 The Back Door of the Ile Ife Center for the Arts and Humanities
Elizabeth Roberts photo AHC.Eliz4197.jpg
Arthur Hall Collection
Special Collections Research Center
Temple University Libraries
Philadelphia, Pennsylvania

2022 Financial Statement

2022 Credits

Opening Balance - $307
Cash Contributions - $4,251
Income from archival services - $226

Total 2022 Credits - $4,783

2022 Debits

Equipment purchases - iMac #3 (used) - $350
Charitable Contributions including support of Ione Nash mural - $150
Annual fees and dues, State of Maine and Northeast Historic Film - $85
Business expenses - $20
Archive / production costs - $247
Printing costs for AFRICA IN THE ARTS OF PHILADELPHIA - $1,932
Postage and shipping - $76
Repair / maintenance - $20
Maintain the www.ileife.org website and domain name - $98
Maintain videos on Vimeo.com - $240
High speed internet connection - $977

Total 2022 Debits - $4,245

Cash Balance on December 31, 2022 - $538

Respectfully submitted,
Bruce Williams
February 2023

Online Movie Archive (Creative Commons, Full Attribution, Noncommercial)

ileife.org