ILE IFE Films
A nonprofit arts organization in 1994
2010 Board of Directors | 2010 Mission Statement | 2010 President's Report
1995 Mission Statement | 1995 Board of Directors
1995 Acknowledgments | 1995 Annual Report | 1995 Press Releases

Mission Statement
(1995)

Ile Ife Films
The Arthur Hall Collection and the Arthur Hall International Dancer Center
is a nonprofit organization dedicated to the arts and education in African and American cultures.
We produce, present, and distribute motion pictures and theatrical presentations
for charitable, religious, scientific, educational, and artistic purposes.

The Arthur Hall Collection
is dedicated to gathering, preserving,
and making available materials about the dance work
of Arthur Hall and the history of the
Arthur Hall Afro-American Dance Ensemble
of Philadelphia (1958 to 1988).

The Arthur Hall International Dancer Center
is dedicated to conducting classes and community concerts
to further Arthur Hall's artistic vision of international dance.

Board of Directors (1995)
Arthur L. Hall, founder & artistic director
Bruce B. Williams, president & filmmaker
Patrice A. Janssen, treasurer & dancer
C. Abbott Meader, artist & professor of art

Personnel (1995)
H. Ahada Stanford, Ph.D., financial consultant
D. Kelley Young, clerk of the corporation
Van Meer & Belanger
South Portland, Maine
Fiscal Agent
The Greater Philadelphia Urban Affairs Coalition
James F. Bodine, secretary

Acknowledgments
Ile Ife Films gratefully acknowledges the good council and either the moral or material support, usually both, of the following individuals during 1995:

Wande Abimbola, president emeritus of the University of Ile Ife, Nigeria

Rowland Abiodun, professor of fine arts & chair of Black Studies, Amherst College

Saka Acquaye, artist & former minister of culture, Accra, Ghana

James F. Bodine, secretary of the Greater Philadelphia Urban Affairs Coalition

Dorothy M. Davis-Joseph, director of public affairs, the African-American Institute, United Nations Plaza, New York

Alexandra Fogel, Maine Grants Information Center

Perkins Foss of Hanover NH, art historian, educator, & principal of Arthur Hall Presents

Brenda Dixon Gottschild, dance historian & professor of dance, Temple University
David Haas, director, Philadelphia Independent Film & Video Association, pifva@libertynet.org
Joe Nash, dance historian & archivist

Robert J. Rutman, professor emeritus, University of Pennsylvania &amp last board chairman of the Ile Ife Center
Robert Farris Thompson, author & art historian, master of Timothy Dwight College, Yale University

1995 archive advice: Northeast Historic Film, OLDFILM@acadia.net
1995 production assistant: Caleb Quaye Cooks, Colby College
1995 technical advice: David V. Nicholson, Colby College


1995 Annual Report
1996 Annual Report | 1997 Annual Report
In June Ile Ife Films documented the performance of Obatala by the Arthur Hall Afro-American Dance Ensemble at the Odunde Festival in Philadelphia.

In July the company documented portions of Arthur's residency at the Heartwood School of Art in Kennebunkport.

In August and early September, with the support of a grant from the Maine Arts Commission to Bruce Williams for Ile Ife Phila Pa, the company produced and fully documented Ile Ife Philadelphia Maine, a series of dance concerts in memory of Arthur's mother, Ms Sallie Hall.

In October Bruce edited the 3rd edition of Arthur Hall's Obatala, incorporating footage from the Odunde Festival and Ile Ife Philadelphia Maine with the 1993 reunion performance.

In November Bruce helped Dorothy Ahlgren of the University of New Hampshire document her production of Obatala Ashe, in memory of Arthur's drummer Adam Perry Smith. The documentation will be added to the Arthur Hall Collection eventually.

At the end of November the board resolved to help establish the Arthur Hall International Dance Center in Rockland, Maine. To benefit necessary renovations to the center, the company produced and fully documented The Rhythm of Life dance concert at year's end.

Also at year's end the company received a Corporate Community Development grant from CoreStates Bank in Philadelphia with the Greater Philadelphia Urban Affairs Coalition acting as fiscal agent. Ahada Stanford prepared the narrative and the budget for the proposal. The grant has allowed the company to continue preproduction of Ile Ife Phila Pa and to augment the Arthur Hall Collection during the early months of 1996.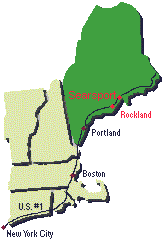 Ile Ife and the Arthur Hall Collection
754 Mount Ephraim Road
Searsport, Maine 04974

207-548-2445

email webmaster

Ile Ife Films Index

Obatala Index
Arthur Hall Index
Arthur Hall Collection Index
Arthur Hall Presents Index