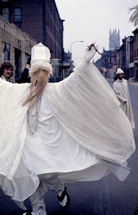 AHC Nov. 1996
Arthur Hall Collection of Elizabeth Roberts gift of over 4,344 35mm slides

1 March 2009 technical notes: In 1997 I numbered this collection of slides in the order in which they were received and divided them into a group of slides that related to the film being proposed on the history of the AADE and a group that related to Elizabeth's cats and family. Arthur was not happy that I had done so. Eventually, these slides will be reintegrated to their original order, but I have begun (late February - early March 2009) to digitize the slides as they are now arranged:

The following list of slides in numerical order includes present location (C1-P1), any notes or dates present on the slide, and any additional identification of subject as it may be known. Note that Mama Liz is more interested in subject than in chronological order. As of this date, these files represent all 618 slides in C1 through P1.
Eliz00.jpg - scan of spines of C1-C3
Eliz00a.jpg - scan of spines of C4-C6
Eliz1877.jpg-P1 - AH in Cuban costume, May 1973
Eliz1881 -P1- Jul 72 - AH in costume w/James & Ray?
Eliz1886 -P1 - AH in rehearsal at Ile
Eliz1901 -P1 - AH in rehearsal (red)
Eliz1902 -P1 - AH in Mama Liz coat, Jan 73
Eliz1905 -P1 - AH in conversation



Eliz1906 -P1 - back of AH in rehearsal
Eliz1913 -P1 - AH w/art
Eliz1914 -P1 - AH w/2 women
Eliz1915 -P1 - Art, Apr 80? - AH & Saka Acquaye
Eliz1917 -P1- Aug 73 -AH outdoor gathering
Eliz1919 -P1- Jan 72 - AH in wings w/ young man
Eliz1927 -P1- Apr 75 - AH resting (dark)
Eliz1930 -P1- Feb 77 - AH & grandmother
Eliz1943 -P1 - AH working at desk
Eliz3081 -C1-Jan 73 - trip abroad (building)
Eliz3082 -C1-Jan 73 - trip abroad
Eliz3084 -C1-Jan 73 - trip abroad
Eliz3089 -C1-Jan 73 - trip abroad
Eliz3092 -C1-Jan 73 - trip abroad
Eliz3094 -C1-Jan 73 - trip abroad



Eliz3098 -C1-Jan 73 - trip abroad
Eliz3106 -C1-Jan 73 - trip abroad
Eliz3109 -C1-Jan 73 - trip abroad
Eliz3111 -C1-Jan 73 - trip abroad
Eliz3114 -C1-Jan 73 - trip abroad
Eliz3122 -C1-Jan 73 - trip abroad



Eliz3129 -C1- AH w/ child on neck
Eliz3133 -C1- street fest
Eliz3135 -C1- street fest
Eliz3137 -C1- couple
Eliz3138 -C1- street fest
Eliz3139 -C1- street fest
Eliz3141 -C1- man
Eliz3142 -C1- man
Eliz3145 -C1- street fest
Eliz3147 -C1- street fest
Eliz3149 -C1- street fest
Eliz3150 -C1- costume/performance
Eliz3151 -C1- costume/performance
Eliz3152 -C1- costume/performance
Eliz3153 -C1- costume/performance
Eliz3154 -C1- costume/performance
Eliz3174 -C1- children playing flutes
Eliz3176 -C1- Eliz, Jul 78 - in hat w/costumes
Eliz3177 -C1- Eliz? in costume w/kora
Eliz3180 -C1- man in hat w/audience



Eliz3182 -C1-Jan 84- Vangie w/banner
Eliz3183 -C1- group at performance
Eliz3185 -C1- drawing of AH
Eliz3189 -C1-Jan 84 - gentleman w/child
Eliz3190 -C1-Jan 84 - gentleman
Eliz3193 -C1-Jan 84 - AH at table
Eliz3203 -C1- child in rehearsal
Eliz3211 -C1- stage at Museum of Art
Eliz3212 -C1- performers at Museum
Eliz3213 -C1- audience at Museum
Eliz3215 -C1- bystanders
Eliz3216 -C1- children in costume
Eliz3221 -C1-Oct 84 - couple
Eliz3222 -C1-Oct 84 - two women
Eliz3223 -C1-Oct 84 - Woman in Kente w/ young woman
Eliz3224 -C1-Oct 84 - Rufus
Eliz3227 -C1-Oct 84 - dancer
Eliz3228 -C1-Oct 84 - dancer
Eliz3229 -C1-Oct 84 - dancer drumming?



Eliz3230 -C1-Oct 84 - AH at table (mysterious photo)
Eliz3231 -C1-Oct 84 - important man in dark glasses
Eliz3232 -C1-Oct 84 - twilight performance
Eliz3233 -C1-Oct 84 - twilight performance
Eliz3234 -C1-Oct 84 - twilight performance
Eliz3235 -C1-Oct 84 - twilight performance
Eliz3236 -C1-Oct 84 - twilight performance
Eliz3237 -C1-Nov 84 - twilight performance
Eliz3240 -C1-Nov 84 - twilight performance
Eliz3243 -C1-Nov 84 - costumes
Eliz3244 -C1-Nov 84 - twilight performance
Eliz3246 -C1-Nov 84 - twilight performance
Eliz3247 -C1-Nov 84 - twilight performance
Eliz3248 -C1-Nov 84 - twilight performance
Eliz3250 -C1-Nov 84 - twilight performance



Eliz3251 -C1-Nov 84 - give us your hand
Eliz3252 -C1-Nov 84 - Mr. Rudman
Eliz3254 -C1-Nov 84 - dark stiltwalker
Eliz3256 -C1- Art Dept, Mar 74 - Gelede
Eliz3261 -C1- three men



Eliz3263 -C1-Feb 78 - performance/ woman's costume
Eliz3266 -C1-Dec 78 - dark costume
Eliz3267 -C1- NaNa, July 75 - AH w/ Ms Sally @ Ile
Eliz3269 -C1- backstage man's costumes
Eliz3270 -C1- Melvin, Jul 83 - w/ cats



Eliz3272 -C1-Feb 78 - women's company posing
Eliz3273 -C1- Oba, Feb 78 - Obatala seated
Eliz3274 -C1- Eliz - w/paintings
Eliz3275 -C1- Ms Sally, Jan 76
Eliz3276 -C1- Jan 84 - AH & Ms. Sally
Eliz3277 -C1- Jan 84 - Ms. Sally & husband (see 3284)
Eliz3278 -C1- Jul 75 - AH & Ms. Sally (see 3267)
Eliz3279 -C1- May 76 - AH & Ms. Sally dancing
Eliz3280 -C1-Apr 83 - Ms Sally w/CAM painting
Eliz3281 -C1- AH w/hair & beard
Eliz3284 -C1- AH group on stairs reproduced for 3rd fl
Eliz3285 -C1- Ms. Sally
Eliz3287 -C1- group exterior
Eliz3288 -C1- Sally (& Nana Tachiampon)
Eliz3289 -C1- Ms. Sally
Eliz3290 -C1- Art & grandmother
Eliz3291 -C1- Art & grandmother
Eliz3292 -C1- Fat Tuesday marquee
Eliz3304 -C1- 1st opening?
Eliz3305 -C1- Ron in costume
Eliz3306 -C1- City Called Heaven



Eliz3307 -C1- 2544 Germantown Ave (red)
Eliz3309 -C1-Mar 76 children on mats
Eliz3311 -C1-Mar 76 children dance
Eliz3312 -C2-Mar 76 dark performance
Eliz3313 -C2- dark performance
Eliz3314 -C2- drummers
Eliz3315 -C2- dark performance
Eliz3316 -C2-Apr 76 - dark performance
Eliz3318 -C2- children dance
Eliz3319 -C2- man in costume - Eddie?
Eliz3320 -C2- notable in kinte
Eliz3321 -C2- Art - AH w/flowers
Eliz3323 -C2- Ms Sally, July 73 - w/friends
Eliz3324 -C2- Art & Sally. Jun 85



Eliz3325 -C2-Spirit, Oct 80 - Mama Liz w/young woman
Eliz3326 -C2-Spirit, Jul 83



Eliz3327 -C2-Spirit
Eliz3329 -C2-Oct 84 - spirit
Eliz3330 -C2-Jan 82? - Yao
Eliz3331 -C2- street fest
Eliz3333 -C2-Jan 76 - dressing room
Eliz3334 -C2- AH in dressing room
Eliz3335 -C2- woman on street
Eliz3336 -C2- AH speaking w/ Nana Tachiampom
Eliz3337 -C2-Oba, Feb 78 - early Obatala costume
Eliz3338 -C2- woman pours libation w/AH
Eliz3339 -C2-Nov 85 - AH @ Odunde?
Eliz3340 -C2-Jan 72 shrine
Eliz3341 -C2-Jul 82 - drummers
Eliz3342 -C2- men by van
Eliz3343 -C2-Feb 78 - Mama Liz in wardrobe
Eliz3344 -C2- (see 3342)
Eliz3346 -C2-Jul 82 - Shango fellow talking



Eliz3347 -C2- dance in raffia & white
Eliz3348 -C2- twilight stage
Eliz3349 -C2- twilight stage
Eliz3350 -C2- NaNa, Jan 76 - Nana Oparebea?
Eliz3351 -C2-Jul 82 - AH
Eliz3352 -C2- attendants



Eliz3353 -C2-Apr 76 - Yanvalu?



Eliz3354 -C2-MHMH - Mama Liz
Eliz3355 -C2-Jul 82 - 23rd St w/ gelede
Eliz3356 -C2-Oct 79, Ed & Co. - Ed in costume



Eliz3357 -C2-Feb 73 - Oba on street
Eliz3358 -C2-Sept 82 mysterious
Eliz3359 -C2- night



Eliz3360 -C2- James Cory
Eliz3361 -C2- NaNa
Eliz3362 -C2- NaNa
Eliz3363 -C2- couple



Eliz3364 -C2- outdoor stage
Eliz3366 -C2- AH w/ ?
Eliz3367 -C2-Oct 84 - man in Yoruba dress
Eliz3368 -C2-DooDoo,Sep 71
Eliz3369 -C2-Nov 85 - costumes exterior
Eliz3370 -C2- costumes exterior



Eliz3371 -C2-Aug 76 - Egungun
Eliz3372 -C2- AH w/ person in kinte
Eliz3373 -C2-Nov 85 costumes from Uhrobo?
Eliz3374 -C2-Oct 82 man in kinte
Eliz3376 -P1- poster from Purdue
Eliz3377 -P1-Jan 7? - AH
Eliz3378 -P1-May 76 - AH dancing w/stick



Eliz3379 -C2- enter drummers



Eliz3380 -P1- Jojo on bell
Eliz3381 -C2- performance



Eliz3382 -C2-Nov 71 - woman's costume
Eliz3383 -C2-Dec71 - woman's costume



Eliz3384 -C2-May 72 - costume in performance



Eliz3385 -P1-July 82 - flirtation exterior
Eliz3386 -C2- flirtation costumes



Eliz3387 -C2- flirtation costumes
Eliz3388 -C2- flirtation costumes
Eliz3389 -C2-Jan 72 - 3 men in straw hats (Eddie)
Eliz3390 -C2- (see 3389)
Eliz3391 -C2-Nov 71 - ladies
Eliz3392 -C2- dance w/chains
Eliz3393 -C2-Nov 71 dance w/chains
Eliz3394 -C2-Dec 71 dance w/chains



Eliz3395 -C2- Eddie, Oct 79 - Eddie & Co.
Eliz3396 -C2- Leisha, Nov 81



Eliz3397 -C2- Elizabeth - w/ big hat
Eliz3398 -C2- FAT-T
Eliz3399 -C2-Apr 75 - Eddie as chef w/Vangie?
Eliz3400 -C2-Aug 83 -costume
Eliz3402 -C2- women's company
Eliz3403 -C2- dancers backstage



Eliz3404 -C2- Karen, Jul 73 - in makeup
Eliz3405 -C2-Apr 75 costume
Eliz3406 -C2-Jul 73 costume
Eliz3407 -C2-Aug 83 costume
Eliz3408 -C2-Aug 83 costume
Eliz3409 -C2-Aug 83 costume
Eliz3410 -C2-Aug 83 costume
Eliz3411 -C2- costume & prop
Eliz3412 -C2-
Eliz3413 -C2- child in costume



Eliz3415 -C2-NO, Mar 81 - gold bra
Eliz3416 -C2-May 72 - on stage



Eliz3417 -P1- masquerade
Eliz3418 -C2- Malewing Bench,Feb 72
Eliz3419 -C2- Lavern, Feb 72
Eliz3420 -C2-Nov 85 - a women w/ Vangie
Eliz3421 -C2-Jan 83 - dancer w/ child



Eliz3422 -P1- Obatala on street (see 3357)
Eliz3423 -C2- Oba, Dec 71



Eliz3424 -C2- Lupo, Dec 73
Eliz3425 -C2-Feb 73 - dancer
Eliz3426 -C2-Oct 82 - Watusi
Eliz3427 -C2-Sep 71 - dressing room
Eliz3428 -C3- Melorn, Jul 72
Eliz3429 -C3-Sep 71
Eliz3430 -C3-Oct 75
Eliz3431 -P1- Dundun, Oct75



Eliz3432 -C3-Feb 76 - Mama Liz w/2 attendants
Eliz3433 -C3- DunDun, Oct 75
Eliz3434 -C3- Hyena costume
Eliz3435 -C3-BAR, Dec 71 - calabash
Eliz3436 -C3-Nov 71 - women backstage, calabash
Eliz3437 -C3-Jan 72 - calabash



Eliz3442 -C3- Laverne/Del/Van, Jan 72



Eliz3444 -C3-Lupo Hipnotic



Eliz3445 -C3-Ruth, Dec 71



Eliz3448 -C3-Apr 73 - white gloves
Eliz3451 -C3-Oct 72 - Eddie & ?
Eliz3452 -C3-Oct 72 - dancer



Eliz3453 -P1 - Art & Ione, Oct 79?
Eliz3454 -C3-Ione, Oct 79



Eliz3455 -C3- Karen backstage
Eliz3456 -C3- Deloris Jones, Nov 71



Eliz3457 -C3- Sweet, Nov 71



Eliz3458 -C3- sigh, Nov 71
Eliz3459 -C3- ShaLeLe, Apr 82



Eliz3460 -C3- drummers
Eliz3461 -P1- Hipnotic
Eliz3462 -C3- dark dance
Eliz3463 -C3- Hipnotic
Eliz3464 -C3-Otofo, Jan 78
Eliz3465 -C3-Jan 72 - women in costume
Eliz3466 -P1 - Farel dances w/ woman
Eliz3467 -C3-Jan 72 - women in costume backstage



Eliz3469 -C3- dancer
Eliz3470 -C3-Jun ?? - Van



Eliz3471 -C3- BOB, Jan 72 - plays reed
Eliz3473 -C3-Jan 86 - dance
Eliz3474 -C3-Feb 78 - drummers
Eliz3475 -C3- first, Feb 72 - sign
Eliz3476 -C3- Gloria, Apr 72



Eliz3477 -P1 - AH at home, Sept 71



Eliz3478 -C3-May 80 - Ron Payton



Eliz3479 -P1- Jun 73 - rehearsal at Ile
Eliz3480 -C3- rehearsal at Ile



Eliz3481 -C3- rehearsal at Ile
Eliz3482 -C3- rehearsal at Ile
Eliz3484 -C3- rehearsal at Ile



Eliz3485 -C3- rehearsal at Ile
Eliz3486 -C3- rehearsal at Ile



Eliz3487 -P1- Mar 73 - rehearsal at Ile
Eliz3488 -P1- Mar 73 - rehearsal at Ile
Eliz3489 -C3-Mar 73 - rehearsal at Ile



Eliz3490 -C3- Helen, Mar 73
Eliz3491 -C3- Ron, Mar 73
Eliz3492 -C3- ED, Mar 73
Eliz3493 -C3-Jun 73 - rehearsal at Ile



Eliz3494 -C3-Mar 73 - rehearsal at Ile
Eliz3497 -C3-Oct 86
Eliz3499 -C3- E.R., Oct 86 - Mama Liz w/ children
Eliz3500 -C3- Park, Oct 86
Eliz3503 -C3-Oct 86
Eliz3504 -C3-Oct 86
Eliz3512 -C3-Jun 85 - sekere
Eliz3520 -C3-Apr 76 - hambone



Eliz3521 -C3-Apr 76
Eliz3522 -C3-Sep 7? - Jomo
Eliz3523 -C3-Apr 76 - drummers



Eliz3524 -C3- Car, Jul 72
Eliz3525 -C3-Jul 72 - also Car?
Eliz3526 -C3- Car, Jul 72
Eliz3527 -C3- Car, Jul 72
Eliz3528 -C3- Car, Jul 72
Eliz3529 Drum, Jul 72
Eliz3530 -C3-Jan 72 - on stage



Eliz3531 -C3- 72 - James Cory & baby



Eliz3534 -C3-Mar 73 - Jojo construction



Eliz3535 -C3- 3rd floor at Ile
Eliz3536 -C3- 72
Eliz3537 -C3-Oct 72
Eliz3538 -C3- Birthday
Eliz3539 -C3- children
Eliz3540 -C3-Oct 72 - Omo Ife
Eliz3541 -C3-Jan 76
Eliz3542 -P1- children's costumes
Eliz3543 -C3- Omo Ife
Eliz3544 -C3-Mar 73 Omo Ife
Eliz3545 -C3-Oct 72 Omo Ife
Eliz3546 -C3- Omo Ife
Eliz3547 -C3-Jan 83 Omo Ife
Eliz3548 -C3-Jan 83 Omo Ife
Eliz3549 -C3-Eddie
Eliz3550 -C3-Mar 73 - rehearsal at Ile
Eliz3551 -C3-Sep 7?
Eliz3552 -C3-Apr 75 - angel costume
Eliz3553 -C3-Jun ? - snake dance costume?
Eliz3554 -C3-Apr 76 - danse conga?
Eliz3557 -C3- Richard, Oct 82
Eliz3558 -C3- Richard, Mar 81 - CAM painting
Eliz3560 -C3-Jan 86 - Kofi w/beer?
Eliz3562 -C3- Yemaya
Eliz3563 -C3- Eliz
Eliz3571 -C3- Art, Jan 76 - AH w/Vangie & Eddie
Eliz3580 -C3- Jun 76 - Obrafo & Betty wedding
Eliz3581 -C3- Jun 76 - Obrafo & Betty wedding
Eliz3582 -C3- Jun 76 - Obrafo & Betty wedding
Eliz3583 -C3- Jun 76 - Obrafo & Betty wedding
Eliz3584 -C3- Jun 76 - Obrafo & Betty wedding
Eliz3585 -C3- Jun 76 - Obrafo & Betty wedding
Eliz3586 -C3- Jun 76 - Obrafo & Betty wedding



Eliz3588 -C3- Jun 76 - Obrafo & Betty wedding
Eliz3592 -C3- Jun 76 - AH w/children
Eliz3597 -C4-Jun 76
Eliz3651 -C4-
Eliz3661 -C4- across street museum



Eliz3672 -C4- Mama Liz w/sharp



Eliz3677 -C4- Apr 82
Eliz3679 -C4- Sept 83
Eliz3682 -C4- Sept 83



Eliz3683 -C4- Sept 83
Eliz3687 -C4- Sept 83
Eliz3689 -C4- Sept 83
Eliz3690 -C4- Sept 83
Eliz3691 -C4- Sept 83
Eliz3692 -C4- Sept 83
Eliz3692 -C4- Nov 83
Eliz3694 -C4-Nov 83
Eliz3699 -C4-
Eliz3710 -C4-
Eliz3711 -C4-
Eliz3712 -C4-
Eliz3713 -C4-
Eliz3717 -C4- Apr 82
Eliz3724 -C4- Apr 82
Eliz3726 -C4- Apr 82



Eliz3727 -C4- Apr 82
Eliz3728 -C4- Apr 82
Eliz3729 -C4- Apr 82
Eliz3731 -C4- Apr 82
Eliz3732 -C4- Apr 82
Eliz3733 -C4- Apr 82



Eliz3734 -C4- Apr 82, Kalilah, Monzella Allen
Eliz3734a - cropped for portrait
Eliz3737 -C4- Apr 82
Eliz3738 -C4- Apr 82
Eliz3741 -C4- Apr 82
Eliz3743 -C4- Apr 82



Eliz3744 -C4- Apr 82



Eliz3745 -C4- Apr 82
Eliz3746 -C4- Apr 82
Eliz3750 -C4- Apr 82 - AH & Betty @ La Roca?
Eliz3754 -C4- Apr 82
Eliz3755 -C4- Apr 82
Eliz3757 -C4- Apr 82
Eliz3758 -C4- Apr 82
Eliz3760 -C4- Apr 82
Eliz3762 -C4- Apr 82



Eliz3766 -C4- Apr 82
Eliz3775 -P1- Festival Oct 7?
Eliz3776 -C4-
Eliz3777 -C4-
Eliz3778 -C4-



Eliz3779 -C4-
Eliz3782 -C4-
Eliz3785 -C4-
Eliz3787 -C4-
Eliz3789 -C4- festival, Oct 7?
Eliz3790 -C4- festival, Oct 7?



Eliz3793 -C4- festival, Oct 7?
Eliz3794 -C4- festival, Oct 7?



Eliz3795 -C4- BOB



Eliz3798 -P1-
Eliz3800 -C4- Barbara?



Eliz3801 -C4-
Eliz3802 -C4-
Eliz3803 -C4-
Eliz3804 -C4-
Eliz3805 -C4-
Eliz3806 -C4-
Eliz3807 -C4-
Eliz3809 -C4-
Eliz3810 -C4-



Eliz3811 -C4-
Eliz3811a
Eliz3812 -C4-
Eliz3813 -C4-



Eliz3814 -C4-
Eliz3817 -C4- Eliz, Oct 75
Eliz3818 -C4-
Eliz3819 -C4- Chuckie 20, Oct 7?
Eliz3820 -C4- Willa & Betty, Oct 7?



Eliz3821 -P1-
Eliz3822 -C4-
Eliz3823 -P1-
Eliz3824 -C4-
Eliz3825 -C4-
Eliz3826 -C4-
Eliz3827 -C4-
Eliz3828 -P1-
Eliz3829 -C4-
Eliz3830 -C4-



Eliz3831 -C4-
Eliz3832 -C4-
Eliz3833 -C4-
Eliz3835 -C4-



Eliz3836 -C4-
Eliz3837 -C4-
Eliz3838 -C4-
Eliz3839 -C4-
Eliz3840 -C4-
Eliz3843 -C4-



Eliz3847 -C4-
Eliz3848 -C4-
Eliz3849 -C4-
Eliz3850 -C4-
Eliz3851 -C4-



Eliz3857 -C4-
Eliz3858 -C4-
Eliz3862 -C4-
Eliz3863 -C4-
Eliz3870 -C5-



Eliz3871 -C5-
Eliz3872 -C5-



Eliz3873 -C5-
Eliz3873a
Eliz3874 -C5-
Eliz3919 -C5- Chuckie 20, Oct 7?
Eliz3920 -C5- Willa & Betty, Oct 7?
Eliz3924 -C5- Wed/put on first, Oct 29, 7?
Eliz3927 -C5-
Eliz3949 -C5- Oct 7?
Eliz3974 -C5- BOB wed, Aug 79?
Eliz3995 -C5-
Eliz3997 -C5-
Eliz3998 -C5-
Eliz3999 -C5-
Eliz4005 -C5-
Eliz4011 -C5-



Eliz4016 -C5- Jul 75
Eliz4022 -C5- Jul 75



Eliz4023 -C5- Jul 75



Eliz4025 -C5- Carol & hug, Jun 75
Eliz4026 -C5-



Eliz4028 -C5-
Eliz4029 -C5-
Eliz4030 -C5-
Eliz4032 -C5-
Eliz4033 -C5-
Eliz4035 -C5- small print, Jan 76
Eliz4040 -C5- Jan 76
Eliz4042 -C5- Jan 76
Eliz4043 -C5- Jan 76
Eliz4048 -C5- Jul 75
Eliz4051 -C5- Jul 75
Eliz4052 -C5- Jul 75
Eliz4062 -C5- Jun 76
Eliz4064 -P1-Jun 76 - AH w/Kwame as novice?
Eliz4066 -C5- Jun 76
Eliz4067 -C5- Betty & Lupo wedding, Jun 76
Eliz4068 -C5- Betty & Lupo wedding, Jun 76
Eliz4069 -C5- Betty & Lupo wedding, Jun 76
Eliz4070 -C5- Betty & Lupo wedding, Jun 76
Eliz4071 -C5- Farel wedding, Jan 76
Eliz4072 -C5- Noman w/Ruth?
Eliz4074 -C5- Jan76



Eliz4075 -C5- Mar 82
Eliz4076 -C5- Mar 82
Eliz4077 -C5- Mar 82



Eliz4078 -C5- Mar 82
Eliz4079 -C5- Mar 82
Eliz4080 -C5- Mar 82



Eliz4081 -C5- Mar 82
Eliz4082 -C5- Mar 82
Eliz4089 -C5- Mar 82
Eliz4095 -C5- Mar 82
Eliz4096 -C5- Mar 82
Eliz4097 -C5- Mar 82
Eliz4098 -C5- Mar 82
Eliz4101 -C5- Mar 82
Eliz4104 -C5- Mar 82
Eliz4107 -C5- Mar 82
Eliz4108 -C5- Mar 82



Eliz4113 -C5- Mar 82



Eliz4114 -C5-
Eliz4115 -C5-
Eliz4116 -C5-
Eliz4117 -C5-
Eliz4118 -C5-
Eliz4119 -C5-



Eliz4121 -C5- Aug 76
Eliz4122 -C5- Aug 76
Eliz4124 -C5-



Eliz4125 -C5-
Eliz4126 -C5-



Eliz4127 -C5- Aug 76
Eliz4128 -C5-
Eliz4131 -C5-
Eliz4133 -C5-
Eliz4134 -C5-
Eliz4141 -C5-
Eliz4143 -C5- Nov 81
Eliz4144 -C5- Nov 81
Eliz4145 -C5- Nov 81
Eliz4146 -C5- Nov 81
Eliz4148 -C5- Nov 81
Eliz4149 -C5- Nov 81
Eliz4150 -C5- Nov 81
Eliz4151 -C5- Nov 81
Eliz4152 -C5- Nov 81



Eliz4153 -C5- Nov 81
Eliz4154 -C5- Nov 81
Eliz4155 -C5- Nov 81
Eliz4156 -C5- Nov 81
Eliz4157 -C5- Nov 81
Eliz4158 -C5- Nov 81
Eliz4159 -C5- Nov 81



Eliz4160 -C5- Nov 81



Eliz4161 -C5- Nov 81 - Yao



Eliz4164 -C5-
Eliz4165 -C5-
Eliz4166 -C5-
Eliz4169 -C5- Open Nite?
Eliz4170 -C6- Open NITU
Eliz4171 -C6- Fire Dance Open House



Eliz4172 -P1- Art - AH w/hair
Eliz4173 -C6- Drum ceremony
Eliz4174 -C6- Jan 78
Eliz4175 -C6-
Eliz4182 -C6- Candy, Jul 87
Eliz4187 -C6- Jul 87
Eliz4192 -P1- Nov 74 - banner in St Croix
Eliz4193 -C6-
Eliz4294 -C6- Nov 74
Eliz4195 -C6- Dec 74



Eliz4197 -P1- Mural at Ile when new



Eliz4198 -C6- Farel
Eliz4200 -C6-
Eliz4201 -C6- Nigeria Girls



Eliz4216 -C6- Obatala in street



Eliz4217 -C6- Oba, James on pallet



Eliz4218 -C6- Obatala in street
Eliz4220 -C6- Jun 85



Eliz4223 -C6- Jun 85
Eliz4224 -C6- Jun 85
Eliz4225 -C6- Jun 85



Eliz4227 -C6- Jun 85
Eliz4228 -C6- Jun 85
Eliz4229 -C6- Jun 85
Eliz4240 -C6- Jun 85
Eliz4243 -C6- Jun 85
Eliz4244 -C6- Jun 85
Eliz4245 -C6- May 74, Kora, Nana w/Bai Kante?
Eliz4246 -C6- Willa



Eliz4248 -C6- Oct 82
Eliz4249 -C6- Oct 82
Eliz4250 -P1- Oct 82
Eliz4251 -C6- Jul 82



Eliz4253 -C6- Jul 82
Eliz4254 -C6- Jul 82
Eliz4255 -C6- Jul 82
Eliz4271 -C6-
Eliz4272 -C6-
Eliz4273 -C6-



Eliz4274 -C6-
Eliz4275 -C6- Aug 83
Eliz4276 -C6- Aug 83
Eliz4279 -C6- Aug 83
Eliz4280 -C6- Jan 78
Eliz4281 -C6- Aug 83
Eliz4282 -C6- Jan 82
Eliz4286 -C6- Jan 82
Eliz4287 -C6- Jan 82
Eliz4289 -C6- Jan 82
Eliz4291 -C6- Jan 82
Eliz4292 -C6- Jan 82
Eliz4298 -C6- Jan 82
Eliz4299 -C6- Jan 82
Eliz4300 -C6- Jan 82
Eliz4301 -C6- Jan 82



Eliz4306 -C6- Jan 83
Eliz4307 -C6- Jan 83
Eliz4310 -C6- Jan 83
Eliz4311 -C6- Jan 83
Eliz4312 -C6- Jan 83



Eliz4313 -C6- Jan 83
Eliz4314 -C6- Jan 83
Eliz4315 -C6- Jan 83
Eliz4316 -C6- Jan 83
Eliz4317 -C6- Apr 83
Eliz4319 -C6- Apr 83
Eliz4322 -C6- Apr 83
Eliz4323 -C6- Apr 83
Eliz4326 -C6- Apr 83
Eliz4328 -C6- Apr 83
Eliz4329 -C6- Apr 83



Eliz4331 -C6- Apr 83



Eliz4332 -C6- Apr 83, AH
Eliz4333 -C6- Apr 83



Eliz4334 -C6- Apr 83, Agita
Eliz4338 -C6- Apr 83
Eliz4339 -C6- Apr 83
Eliz4340 -C6- Apr 83
Eliz4343 -C6- Apr 83



Eliz4344 -C6- Apr 83


Complete Elizabeth Roberts Gifts of 1996