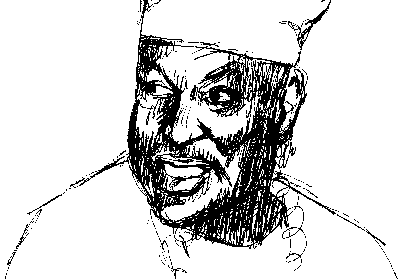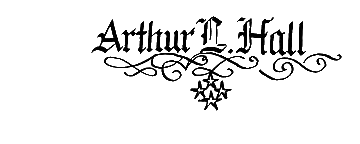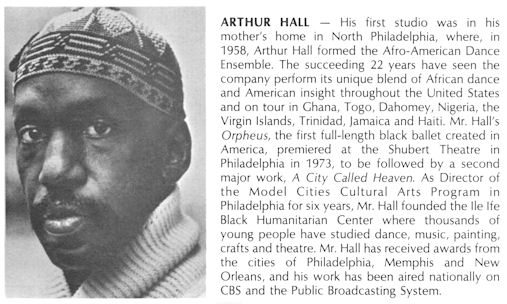 Arthur's page from the Pennsylvania Governor's Award for Excellence in the Arts (1980)

In Memoriam - Obituaries - Remembrances

1995 Resume | Sample program note from 1996


1988 biographical sketch ~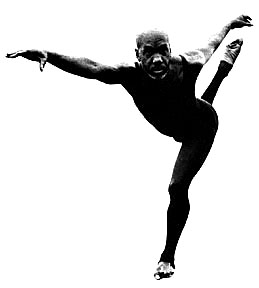 ~ 1995 biographical sketch

Daniel Webster, The Philadelphia Inquirer Magazine, 1968
Daniel Webster, The Philadelphia Inquirer, 10/21/70

The Arthur Hall Collection
Ile Ife Films
Arthur Hall Presents - From 1996, includes Maine concerts
African Festivals in American Schools - From 1996




Sample program note from 1996
ARTHUR HALL
An internationally known dancer and choreographer, Arthur Hall founded the
Afro-American Dance Ensemble in Philadelphia (1958), as the artistic director for
thirty years, founding the Ile Ife Black Humanitarian Center on Germantown Avenue in 1968.
He has been a movement specialist for the National Endowment for the Arts and an
instructor of dance at Dartmouth College among scores of other schools and
universities. Renowned for his outstanding choreography, Arthur Hall's professional
interest in African and African-American dance has taken him around the world, sharing
dance with young and old alike.
Arthur Hall now [1996] resides in Camden, Maine, maintaining an active schedule of his
African Festivals in American Schools and communities.
Muntu Dance Theater of Chicago is working on a revival of his Fat Tuesday and all that Jazz (1977).
He is the artistic director of the nonprofit Ile Ife Films, the Arthur Hall Collection,
and is working toward establishing an international dance center in Rockland, Maine.
Arthur Hall is a member of the New England touring roster.


Photograph by Dagney Ernest, Belfast Dance Studio 1996

See also

Arthur Hall in Ireland
August 1998

ARTHUR HALL: looking back/dancing forward
by Dagney Ernest, Previw, July 1996
The Arthur Hall Home Page &amp Related Links from New York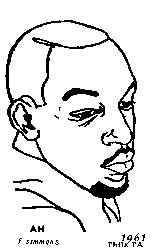 Portrait of Arthur Hall by Frank Simmons
from 1962 Ione Nash poster.

Pen &amp ink portrait at top of page by Ruth Ferrara of Brunswick, Maine (12/31/1995)
Caligraphy by Mineral of Chicago, June 1996.


Arthur Hall Subdirectory Index
Return to Ile Ife