The Arthur Hall Collection Digital Archive
Posted February 2011

The Unvictorious One
By Jorge Preloran
(1957, silent, color, 9:09)

A dark, experimental dance film about identity, prejudice, and racism, it is the earliest known film of Arthur Hall dancing. Filmed in Heidelberg, Germany, while Arthur and Mr. Preloran were stationed there with the US Army Special Services. In 1996, Jorge Preloran sent to the Arthur Hall Collection a VHS copy of the workprint with dissolves marked in grease pencil. He included a numbered list of titles:

1. Sun up - A new day - A man is born
2. Wishes and expectations for a good life
3. Starts on the road of life - Comes to the first door
4. Second door - Can't pass
5. Sees himself in water as different, tries to wash it off
6. Paints face white
7. Second door opens to him
8. He dresses up with cloths
9. Third door - Challenges it - Won't open
10. Wish dance - Request to God
11. Returns to third door - Does not open - White faces deride him - Mirror: his face is unpainted - He dances in agony
12. He cries - Hope for the next generation
13. Sundown

The version seen here was edited in 2010 by Bruce Williams in accord with Mr. Preloran's marked up workprint. It is unclear whether there was a dance to express "Hope for the next generation," though Arthur's life and work were dedicated to that end.



Jorge Preloran deposited the original footage with the Human Studies Film Archives of the Smithsonian Institution.
[See Jorge Preloran search results.] Karma Foley is the processing archivist for the Preloran Collection. She describes two holdings under The Unvictorious One:

HSFA 2007.10.4 - 700 ft. - edited Kodachrome camera original, believed to reflect the original edit dating to around 1957. Still beautiful color, but suffering from acetate deterioration (vinegar syndrome), which requires film-to film preservation work.

HSFA 2007.10.79 - 510 ft. - edited workprint with grease pencil marks for fades and dissolves, including footage not found in the earlier version. Karma writes, "Preloran appears to have been working on this version around 1994-1996. It includes 'new' footage ... of white masks (perhaps an updated version of the 'mocking faces') as well as intertitles featuring poetry by Langston Hughes."

Perhaps the videotape Mr. Preloran sent to Arthur, used for the version posted above, was made before or as Mr. Preloran returned to the film in 1994-1996. At any rate, the tape in the Arthur Hall Collection does not include white masks or Langston Hughes titles.

Mr. Preloran credits Arthur with the original idea for the film. In 1996, Arthur told me the film was originally meant to include a poem Arthur had written, The We of Me, but that the collaboration ended before the film was completed.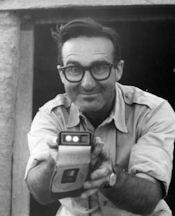 Jorge Preloran
Jorge Preloran was born in Buenos Aires in 1933, a dual citizen of Argentina and the US. It seems that The Unvictorious One is among his first films, although he had already received a promising young filmmaker award in his native country. After his stint in the Army, he graduated from UCLA in 1961 and returned to Argentina to begin a career as one of the world's leading ethnobiographical documentary filmmakers, known for including his subjects as collaborators and for making films that "do not use ... but serve" their subjects. He returned to UCLA to teach filmmaking in 1976, retiring in 1994. Among his many honors, he received an Academy Award nomination for his film Luther Metke at 94 (1979). Jorge Preloran died on March 28, 2009, in Los Angeles, following a ten-year struggle with prostate cancer. He was 75.
Jorge Preloran web exhibit at the Smithsonian
More Arthur Hall films available online