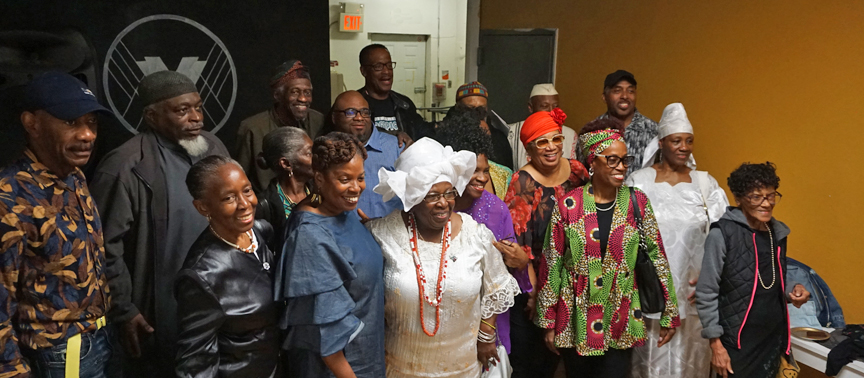 Friends of Arthur Hall return to the old center, September 23, 2018.

2018 Annual Report
Page 2
Update February 2019

A summary of 2018 highlights:


The ten-year process (2008-2018) of creating digital Preservation Masters for the
moving images in the Arthur Hall Collection is largely complete. Digital Preservation
Masters are large, uncompressed files from which we make Mezzanine Files, which are
smaller and more easily edited and reproduced. Preservation Masters are designed for
long-term, "dark" storage and are to be accessed only in the event of extraordinary
loss of the working Mezzanine copies.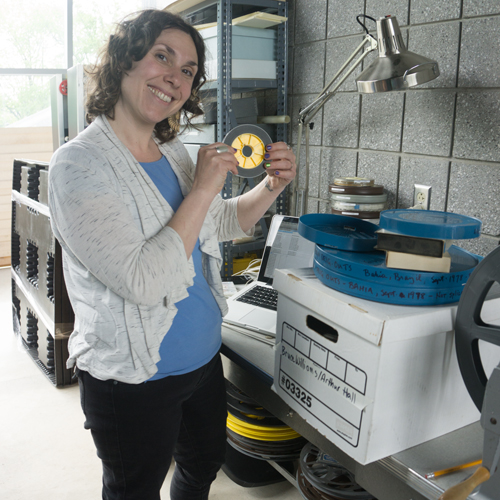 Gemma Perretta Scott identifying films from the Arthur Hall Collection


Thanks to the good work of Gemma Perretta Scott, the moving images in the collection
have a good database that reflects the existing films and videos and their various
digital iterations. The database gets very complex very quickly, and we are lucky to
have a trained archivist as talented as Gemma is to keep things current.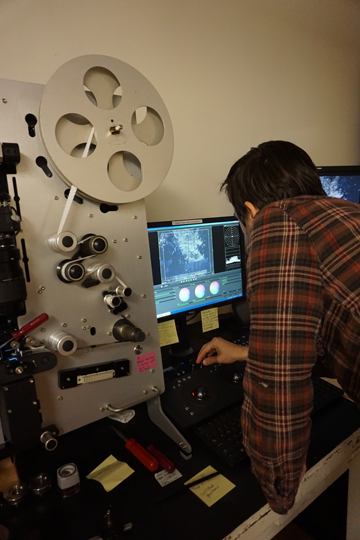 Joe Gardner at Northeast Historic Film


The Preservation Masters are stored on duplicate, geographically remote sets of LTO
tapes (LTO = Linear Tape Open). So far, we have twelve complete LTO tapes, each
containing terabytes of data, and are working on the two LTO #13s. This technology is
managed by Joe Gardner of Northeast Historic Film (NHF) in Bucksport, Maine. The "A"
set is in deep storage in the climate-controlled vaults of NHF, and #1 through #12 of
the "B" set are in a PNC Bank safe deposit box in Philadelphia, Pennsylvania.


ILE IFE Films now has over 100 videos available online through Vimeo.com.
The most watched video in both 2017 and 2018 was Odunde 1995 with 783 views.
The all-time most popular video remains Arthur Hall in Mister Rogers Neighborhood with 814 views.

Other all-time most watched videos ‐

Arthur Hall Obatala with 779 views.

Ray Hartung's ILE IFE House of Love with 569 views.

Orisun Omi with 326 views.

Marie Laveau Conjures Gris Gris with 303 views.

In Memoriam Van Williams with 302 views.

Followed by my Lake Dynamics film
the Veterans for Peace film Second Time Around for William Jefferson
Bobby Artis Tribute Rehearsal
Snake Dance Teacher Dance
Abbott Meader Push Pins on Parade
and many, many more.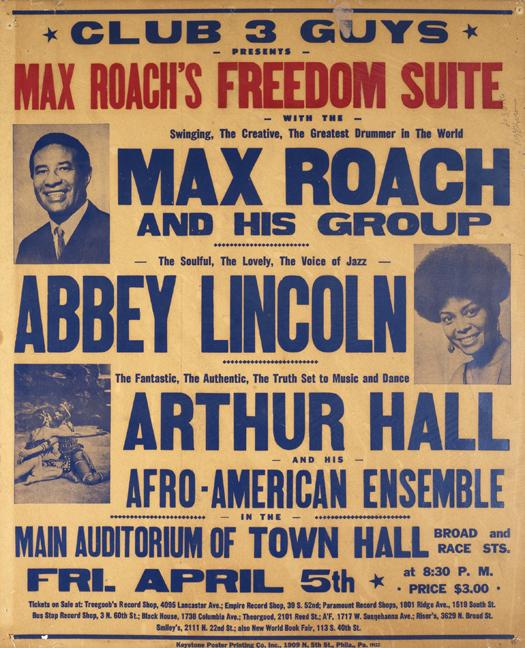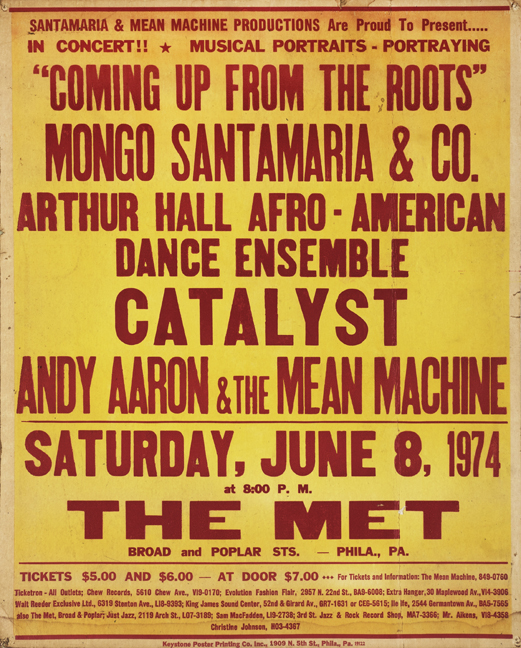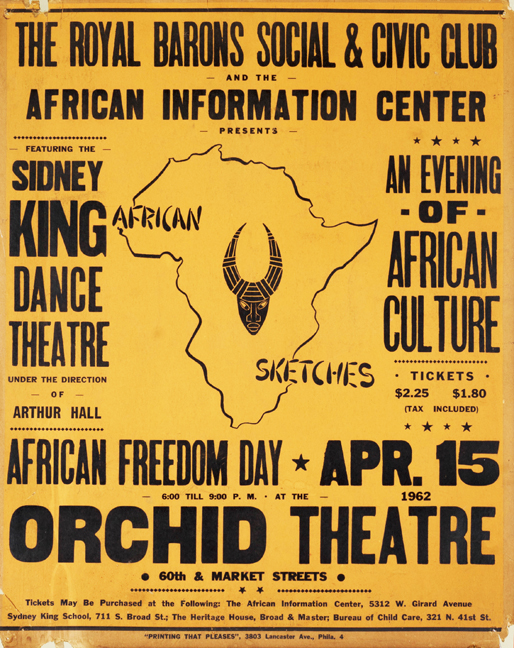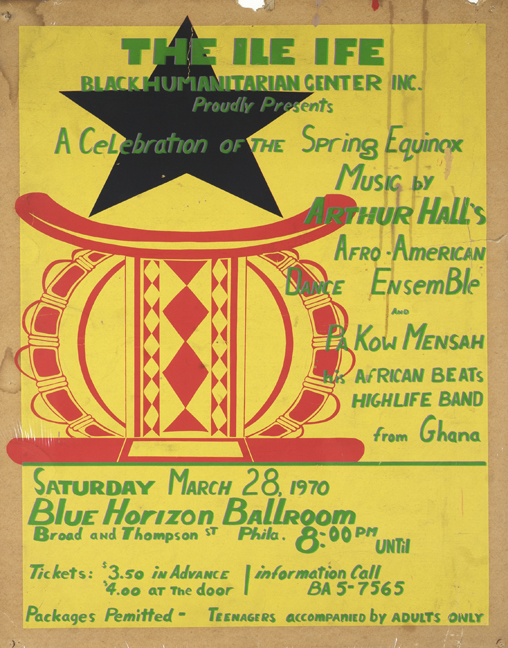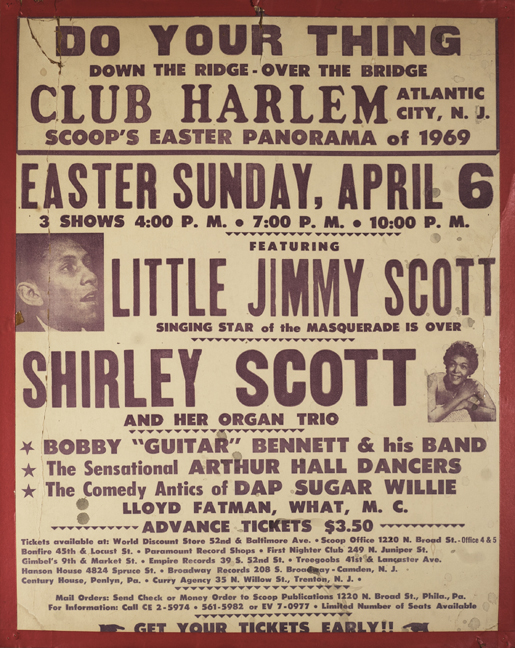 Germaine Ingram purchased full-size reproductions of posters from the collection for
display at the Village of the Arts, including Freedom Now Suite (Max Roach and Abbey
Lincoln), Mongo Santamaria, African Sketches (Sydney King Dance Theatre), Spring
Equinox (Black Star on Red Stool) with Pa Kow Mensah, and Jimmy Scott. We also sent reduced
reproductions of these posters to friends and alumni.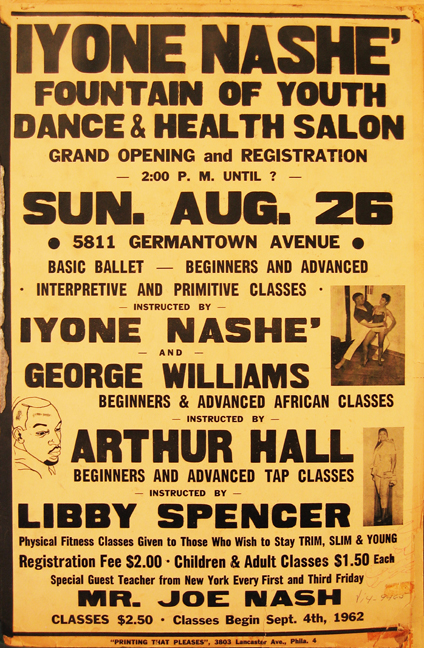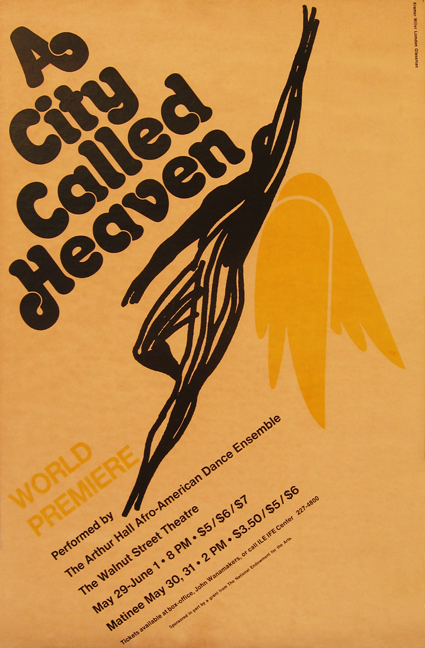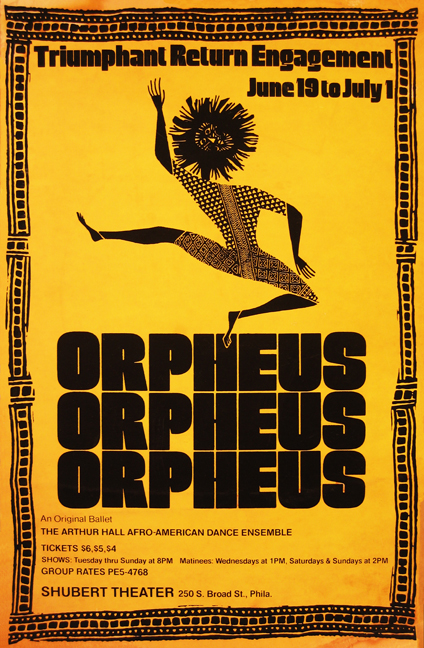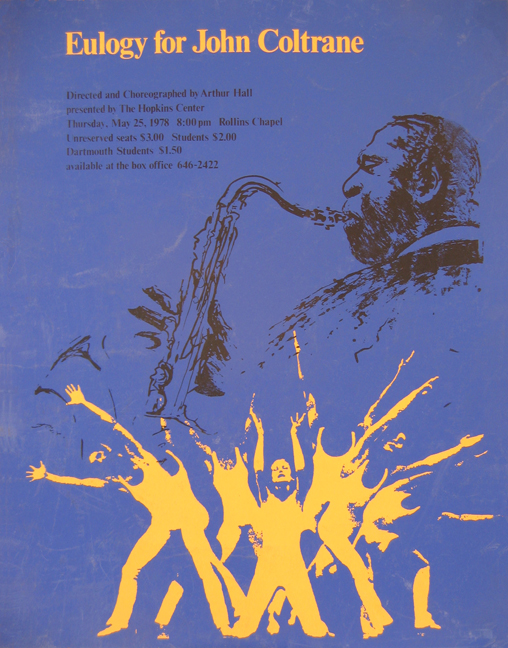 For our trip to Philadelphia, we made a full-size reproduction for Ione Nash of her
early Fountain of Youth poster. We also gave Betty Alridge a City Called Heaven poster,
Nana Korantema received an Orpheus poster, and Skip Burton
received a Eulogy for John Coltrane poster.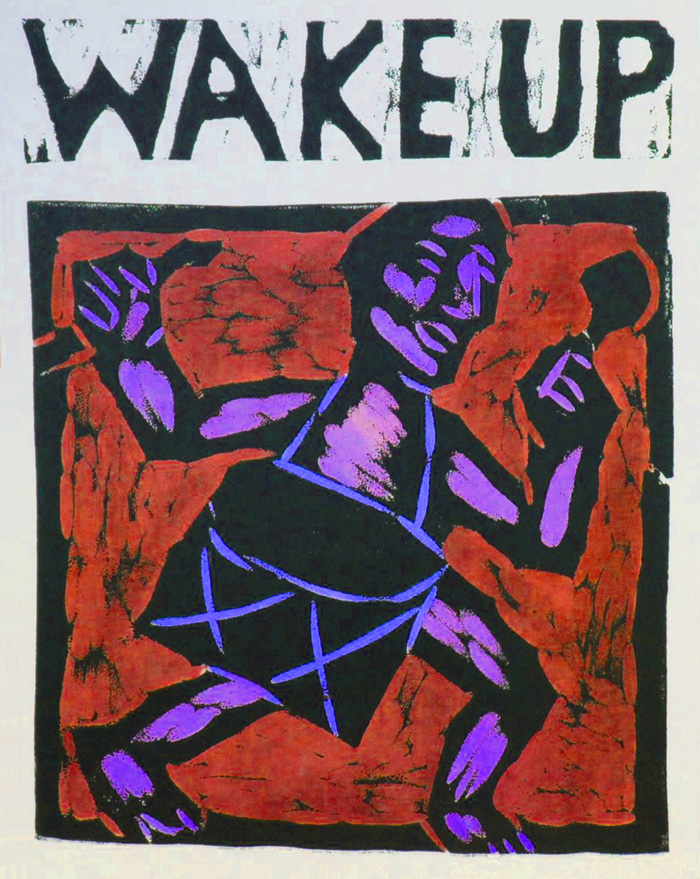 The Bread and Puppet Theater travelled from Belfast, Maine, to Philadelphia
while we were doing the same thing, and they arrived just before us.


The dedication of the Arthur Hall, Obatala, Barbara Bullock mural on September 23,
2018, was a great success. Many old friends, good food, and good music. Daryl Kwasi
Burgee gave a moving address. We gave him a banner from the Bread and Puppet Theater
with the drummer reproduced above, but it said "Listen" instead of "Wake Up,"
and the colors were better.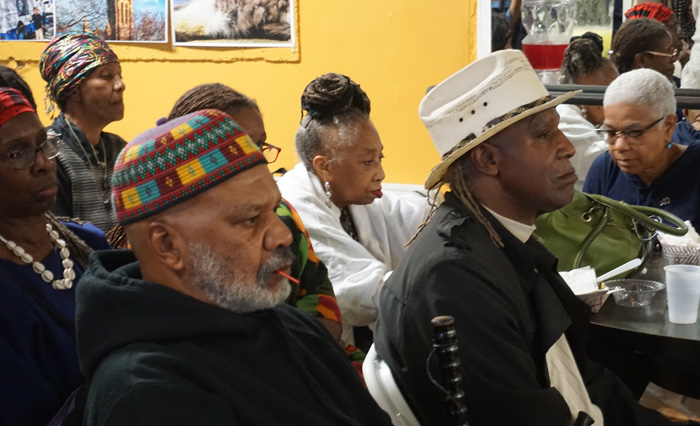 James Corry, Barbara Bullock, Curtis Brown, et al. listen to Kwasi Burgee's address, September 23, 2018.

I took many photographs during the dedication and returned a few days later to photograph
the mural and the center in the sunshine. I shall be able to match some of these
photos with the same locations some 35 years ago.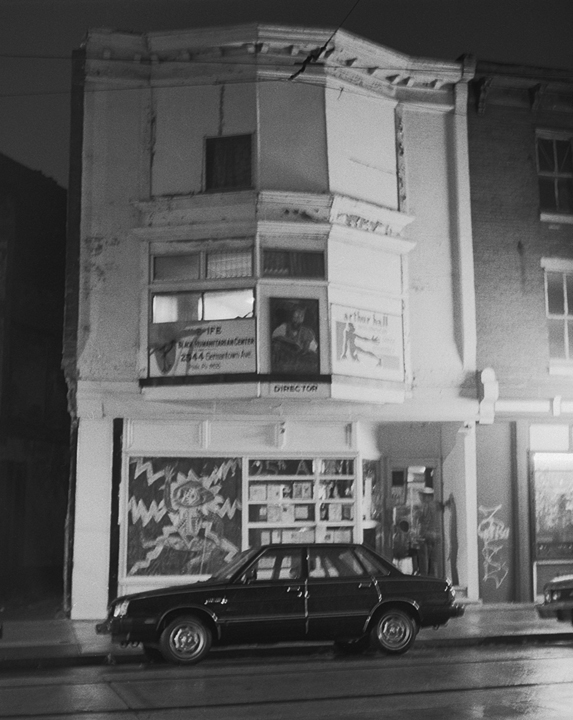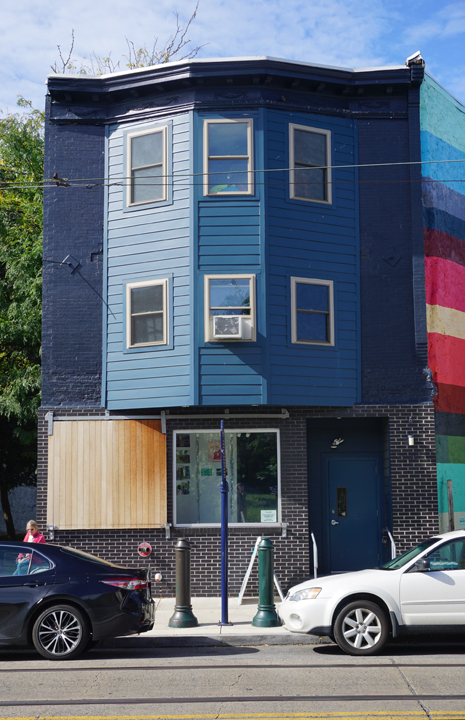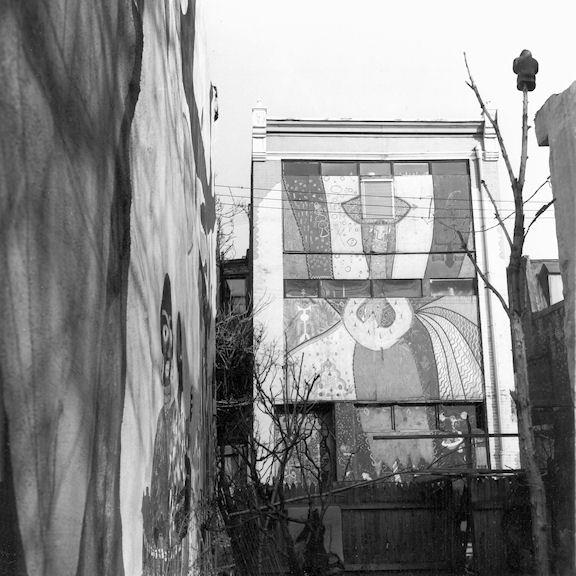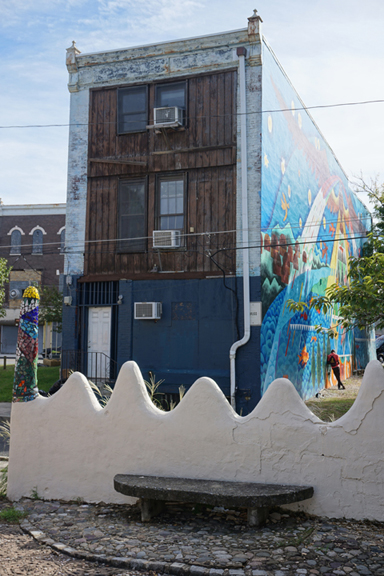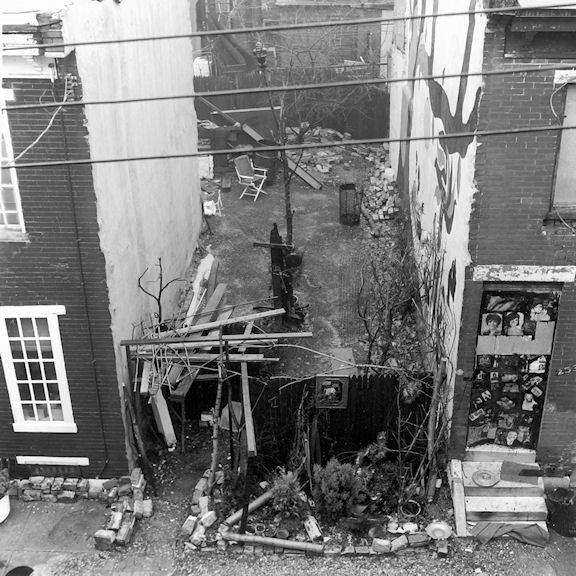 It was good to see Arthur's historic marker back in place.


On Monday, September 24, Patrice Janssen, Betty Alridge, and I had a good meeting with
Margery Sly, director of the Special Collections Research Center (SCRC) in the Paley
Library at Temple University. We hope to agree to a plan to move the Arthur Hall
Collection to Philadelphia during the summer of 2019, in time for the official
dedication of the magnificent new library a year from now. Perhaps then there will be
dancing and drumming to augment the celebration.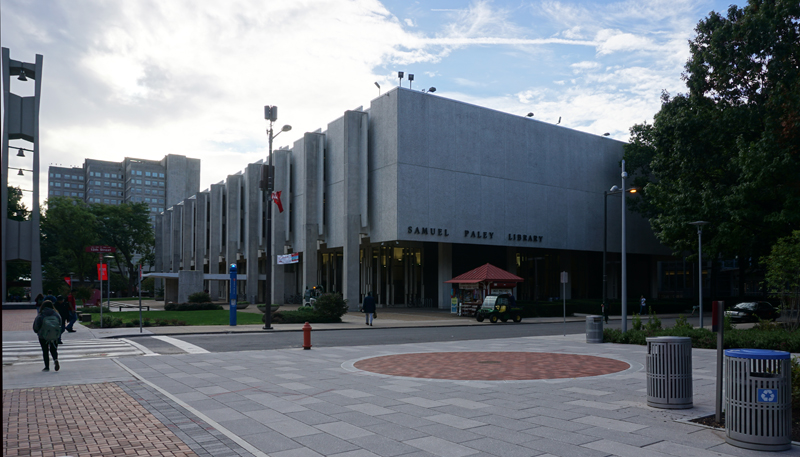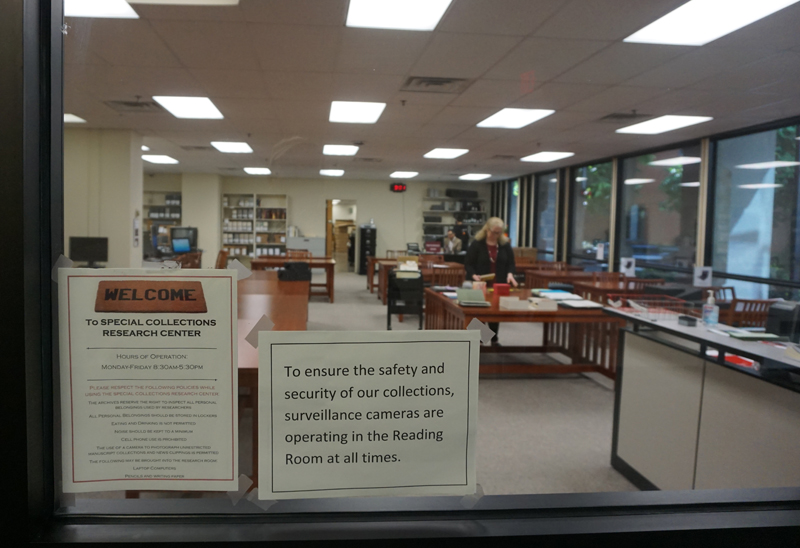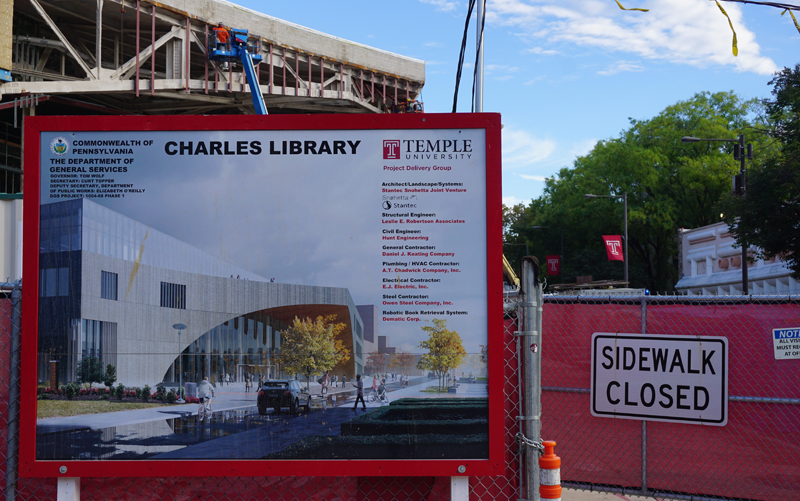 There is much work to be done before then. The films and videos are now well ordered,
but other aspects of the collection, including audio recordings, photographs, scrapbooks,
and so on, are in a bit of a mess. Betty Alridge plans to come to Maine to help get things in order
before Margery Sly and an assistant go through the collection to select what shall be accessioned
over the summer. We hope to give the collection to the SCRC with a "Creative Commons"
license that requires full attribution and prohibits commercial use. We anticipate having a
Certificate of Gift by late spring or early summer.

Once the collection is housed in the new library, the "full attribtion" would read:

From the
ARTHUR HALL COLLECTION
SPECIAL COLLECTIONS RESEARCH CENTER
TEMPLE UNIVERSITY LIBRARIES

Read More
Page 3