The Arthur Hall Collection
1969
Materials in the Arthur Hall Collection
Note:
The items in the Arthur Hall Collection
listed here are now located in the
Special Collections Research Center
Temple University Libraries
Philadelphia, Pennsylvania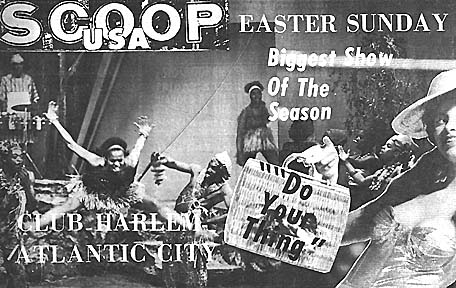 Abreviations:
JN=Joe Nash
ER=Elizabeth Roberts
AH=Arthur Hall
Ile Ife Center opens
AH, Repertory Workshop: Africa's Children (16mm 60 min, 2 part)
JN, AHAADE Jan 15 & 22 on Ch 12, WHYY "Africa's children" (5 dances)
JN, [Tribune 1/21/69 photo for "part 2" Jan 22]
Africa's Children, WHYY, 1969

JN '69 file, AHAADE Jan 23 @ Ithan Elementary School
to benefit Peace Corp partnership [newspaper article, no attribution]

JN, AHAADE Feb 1, 1969 @ Civic Center Museum, 34 & Civic Ctr

JN, AHAADE Feb 8, 1969, @ DuPont Theater Playhouse
Wilmington Del "Imagery in Black"

JN, AHAADE Feb 14, 1969 @ Bryn Mawr College, Goodhart Hall

JN, AHAADE Feb 24, 1969 @ Berea College, Kentucky
JN, [program - Hutchins Lectureship Program, Berea]

JN, AH Dancers March 7, 1969 @ Kingsessing Rec Ctr

JN, AHAADE [sometime between March 24-30, 1969]
@ LaSalle College ~ Black Arts Fest [Black Torch 4/7/69]
JN, AHAADE Mar 26; Iyone Nash Mar 30
JN, Black Student Union of LaSalle, AADE Mar 26

JN, AH Dancers March 25, 1969 @ Dr Tanner G Duckrey School Variety Show

JN, AHAADE Mar 28, 1969 @ Fitzsimons [Phila Tribune 5/5/69, p.10]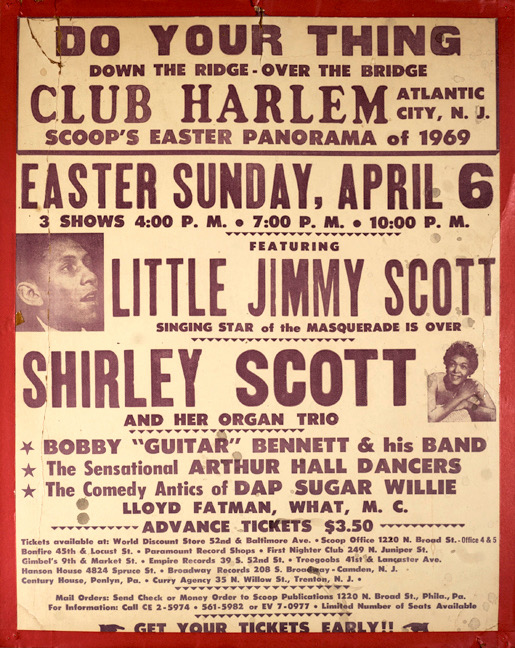 JN, Arthur Hall Dancers 4/6/69 @ Club Harlem [Scoop USA 3/22/69]
JN, ditto [Scoop USA 3/1/69]
JN, ditto [Scoop USA 3/29/69 cover photo montage]
ER, Club Harlem (Atlantic City), April 6, 1969 (Easter Sunday, 3 shows)
AHAADE w/Little Jimmy Scott, Dap Sugar Willie, &c.

JN, AHAADE Apr 9, 1969 @ Eastern Connecticut State College
[program lists Lincoln, Kentucky State, Swarthmore, Antioch, Temple, U of Penn]

JN, AHAADE Apr 10, 1969 @ McCall School
7 & Delancy [Phila Tribune 5/12/69]

JN '69 file, AADE April 14 (no year) @ SMU (cites Berea president, no other attributions)

JN, "Blackbook" premiere 5/1/69 w/ AHAADE, Odetta &c, WFIL ch 6
AH, Blackbook (1969, WPVI - Jon Miller)
Jim Blocker via Sesame St & Children's TV Wksp

JN '69 file, AHAADE May 17 (no year) @ Black Arts Fest, Scwab Auditorium
(no other location)
w/ Robt Kenyatta, James Brown, Adam Clayton Powell,
Ruby Dee, Freedom Theater, Muddy Waters, Olatunji
JN, Sunday Bulletin 5/18/69 "Better Break" w/AHAADE
JN, Better Break Telethon w/AADE @ Convention Hall
JN, AADE May 23, 1969 @ Upper Dublin HS Aud, Women's Fellowship
Antioch Baptist Church, North Hills PA [orig program]
JN, AADE May 25, 1969 @ Blue Horizon, 1346 N. Broad
w/ Rufus Harley, Freedom Theatre, et al.
JN, AHAADE May 31, 1969 @ Regency Catering, 311 So Broad
[Nigerian Student Union, Obadiah Craig]
JN, AH African Dancers June 9, 1969
Summer Evenings in Rittenhouse Square
Benefit cocktail for Ile Ife June 15, 1969 hosted by C. Edward White

JN, [Scoop USA 4/12/69: "AHAADE to appear @ Club Harlem complete month of June"]
JN, [Phila Tribune 6/24/69 AADE @ Club Harlem "latter part of June"]
JN, [rave review of AHAADE at Club Harlem, Greater Atlantic City Reporter 7/4/69]

Ile Ife Black Humanities Center opens c. Aug 7, 1969

JN, AADE July 30, 1969 @ Pastorius Park, Chestnut Hill
JN, AHAADE Aug 7 & 8, 1969 @ Temple Music Festival
[Phila Inquirer 8/8/69 by Daniel Webster]
JN, AHAADE @ Temple Music Fest on Ambler campus in June
[Phila Daily News 3/11/69]
JN, [Phila Inquirer 8/3/69 "One more rung for AH Dancers"
Temple Music w/ Preservation Hall, Joan Baez, Count Basie]
JN, [Festival adv: Butler Pike & Meetinghouse Rd, Ambler]
JN, AHAADE Aug 12 - 16, 1969 @ Jacob's Pillow, Lee, Mass
JN, AADE opening & daily shows @ JFK Plaza "50 days of Fun"
JN, AHAA Dancers @ "50 Days of Fun" JFK Plaza, 16 & JFK Blvd
[Phila Daily News 8/30/69]
JN, AHAADE [illegible]...er 13, 1969 [The Great Sneeze of '69]
@ The Heely lecture series (standing ovation) no other information
JN, AHAADE Sept 26, 1969 @ Williams Afro-American Society,
Williams College, Williamstown, Mass
ER, "Dance Concert Series" Sept. 26 (no year) Adams Memorial Theatre
Williamstown (Mass.?)~yes, as per JN file, plus year is 69)
JN '69 file - AHAADE Oct 11 (no year) @ Von Der Mehden Recital Hall
[by Afro-American Cultural Center & Org. of Afro-American Students
Program cites Jacob's pillow, 2 seasons]
JN, AHAADE Oct 18, 1969 @ Abington HS So Campus Auditorium
w/ LaMott AME Church choir
[Eastern Montgomery County Ministerial]
JN, [Bulletin 9/18/69] Citizens for progress
JN, Phila Daily News 10/18/69: AADE @ Ursinus College, Collegeville PA
[by context c. 10/21/69] Bomberger Hall
JN, Sunday Bulletin 10/19/69
Carol Butcher at 22, photo by Francis Laping
JN, AHAADE Oct 24, 1969 @ Phila Civic Center, United Nations week
reception for Intn'l students & visitors
JN, City of Phila annual report [Daily News supplement 10/27/69]
"Better Break" program photos of JoJo, Kwame Ron et al.
AH, Better Break Program, City of Phila.
JN, AHAADE Nov 15-16, 1969 @ City Center Theater
Lincoln Center Arts for Children
JN, AH Dancers Dec 19, 1969 "Blackmas" of Black Community Fund
(no location) w/ LeRoi Jones (Baraka) & Ossie Davis



Additional material sought

Chronological Outline

1968 | 1970

Collection Directory
Collection Index