Can you tell us about this recording of Arthur's speech:



Arthur Hall Day, July 16, 1993
Pennsylvania Academy of Art
Radio News archive?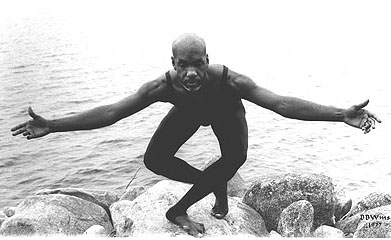 The Arthur Hall Collection seeks any recollections, information,
references, or materials about
Arthur Hall
- including his residencies -
the Afro-American Dance Ensemble,
the Ile Ife Center,
the Ile Ife Museum
or any related subjects.

Materials may be mailed to:

The Arthur Hall Collection
754 Mount Ephraim Road
Searsport, Maine 04974

(207) 548-2445

Please contact us via email
bruce.williams@ileife.org
Materials you make available to the Arthur Hall Collection may be duplicated and returned to you,
or they may be added to the Arthur Hall Collection, as you prefer.

Specific information or materials include:
Any films or photographs

the photographs of Robert Thompson of Philadelphia
MOJUBA!
Orpheus at Greaterford Prison - Jon Miller, producer
Phila Free Library (60s, 70s, 16mm, 120 min) [nothing in Free Library archive, maybe stills]
Dave Garoway Show with Afro-American Ensemble at Philadelphia Museum of Art (1960s)
Mike Douglas Show w/ Della Rees (Harvest) (1968-1970?, 10 to 15 min. segment)
Marcia Rose Show KYW Phila. (nat'l broadcast)
any other broadcasts, photographs or private documentation



Names and addresses of former company members, staff, or friends of Ile Ife - see Alumni

Gold Coast Saturday Night on Elektra (LP album c. 1956) by Saka Acquaye and Black Beats Band (possibly African Ensemble in America)

AADE performances w/Dinizulu - ref: Kamake Dinizulu

Nation of Islam Temple dedications: first w/ Malcolm X , last w/ Muhammed Ali (perhaps May 7, 1968 @ Camden Convention Hall)

Harold Shaw, former agent for Saul Hurok - ref: Shaw Concerts Inc, 233 W. 49th St, NY 10019 - Records of itineraries, etc.

School residencies, including:

Friends Select Schools (60s & 70s)
Young Audiences of SE Penna
Bernice A Ray Sch, Hanover
Wellsley Sch Sys, MA
Village Elem Sch, Gorham
New Franklin Elem
Portsmouth NH
Johnson St Coll, VT
Hart Jr HS, DC
Phila Comm Coll
First Stage, Pittsburgh
Goleta Union Sch, CA
East LA Coll, CA
Dance Concert Society, St Louis



Judimar School

Please respond

And support our efforts to preserve and make more accessible
this important history by making a financial contribution.



Arthur Hall Collection Directory
Arthur Hall Collection Index
Return to ILE IFE