The Ile Ife Museum

For many years a copy of the Queen Mother (pictured above) gazed out over North Philadelphia from atop the Ile Ife Museum toward William Penn atop City Hall. For over 15 years between 1972 and 1988 the Ile Ife Museum was a mecca for African and African American art, housing a world class collection of West African materials as well as the work of local artists.

The building was a gift to Ile Ife from what was then First Philadelphia Bank (now CoreStates), and with its Masonic design was on the registry of historic landmarks. When Ile Ife closed in 1989, the museum was gutted, abandoned and covered with graffiti. It was finally torn down in 1997.

From the Museum's brochure in its heyday: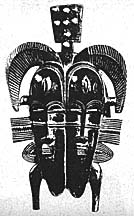 The Ile Ife Museum
of Afro-American Culture
7th &amp Dauphin Streets
Philadelphia
The first Afro-American museum in Pennsylvania is a dream come true for those seeking to identify their roots and shape their destiny. A man without knowledge of his history is like a tree without roots. Housed in an historical landmark donated by the Philadelphia National Bank, the Museum contains art and artifacts that trace the migration of African people from the shores of West Africa to Haiti and the Caribbean to the contemporary flowering of the African American expression personified by the Ile Ife Center.

Ile Ife in the Yoruba language means House of Love. It is the Holy City of Yorubaland, the birthplace of the Orishas. Ile Ife of Philadelphia joins hands with the mother Ile Ife of Nigeria to bring our community the cultural enrichment that follows respect and appreciation for the arts and the humanities."
Museum brochure
c. 1978
Additional materials sought

Arthur Hall Collection Directory | Directory of Logs | Collection Index